How to fix Windows 10 not showing thumbnails
Windows 10 can show thumbnails for files. These thumbnails offer either a preview of the file itself, e.g., with images, or they identify the file by the app that is set as the default to open it. They're useful; you don't have to open a file to see what's in it, and you can identify a file type by just looking at it.
Fix Windows 10 not showing thumbnails
By default, Windows 10 will show you thumbnails for all files. This isn't a feature that you have to turn on; however, sometimes, the thumbnails disappear. This may happen after a Windows update has been installed or if you've been customizing Windows 10 with themes, skins, or apps. Try the fixes below.
1. Enable thumbnails
It's possible that thumbnails have been disabled on your Windows 10 system and you need only enable them again.
Open File Explorer.
Go to the View tab.
Click Options.
Select 'Change folder and search options'.
In the window that opens, go to the View tab.
Uncheck the 'Always show icons, never thumbnails' option.
Click Apply.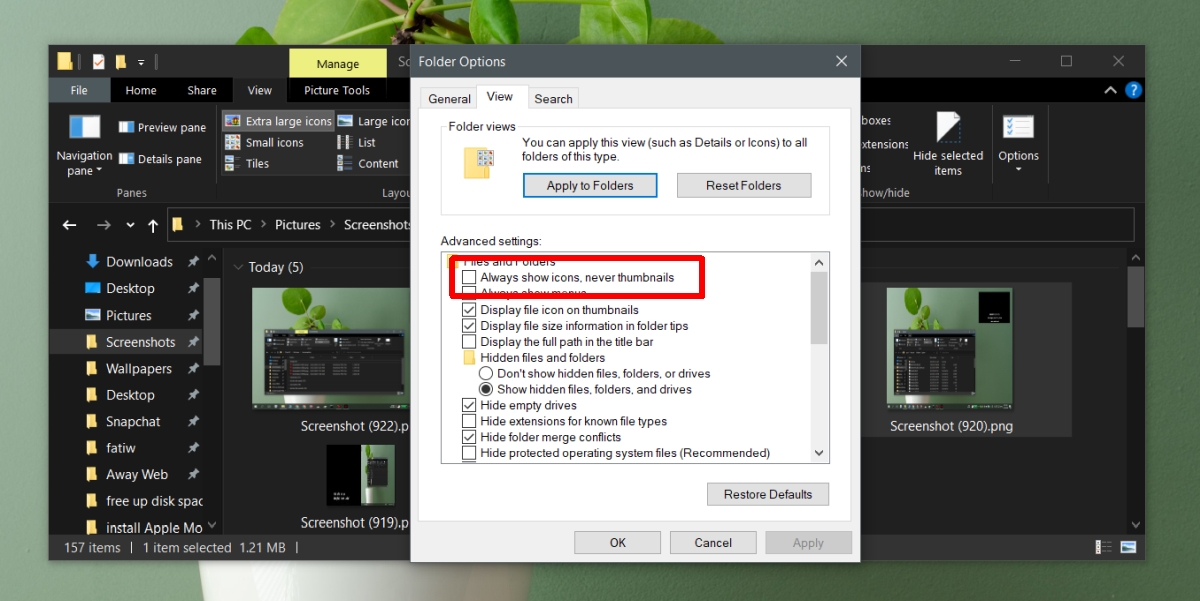 2. Clear thumbnail cache
If the thumbnail cache is corrupt, or it's gotten too big, Windows 10 may have trouble generating thumbnails for files. Clearing it will fix the problem.
Open File Explorer.
Enter the following in the location bar, and tap Enter.
%LocalAppData%\Microsoft\Windows\Explorer
Delete the files with the .db file extension.
Restart the system, and the thumbnails should start showing.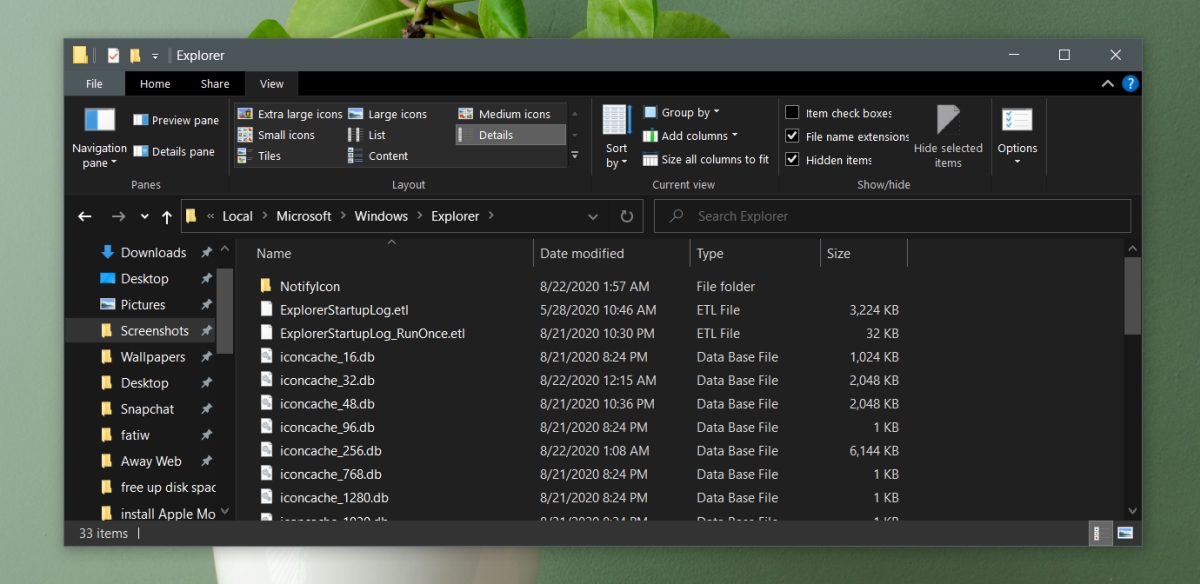 3. Add thumbnail support
If thumbnails do not appear for a particular type of file, there may be two reasons behind it. The file may not have a default app set for it, or File Explorer may not support thumbnails for it the way it does for PNGs.
To set a default app for the file type;
Open the Settings app.
Go to the Apps group of settings.
Go to the Default Apps tab.
Click 'Choose default apps by file type'.
Scroll through the list of file extensions, and click the plus button next to the file type that does not have a thumbnail.
Select an app that will open it.
If you want thumbnail previews for the file, you're going to have to find and install a File Explorer extension that can add it.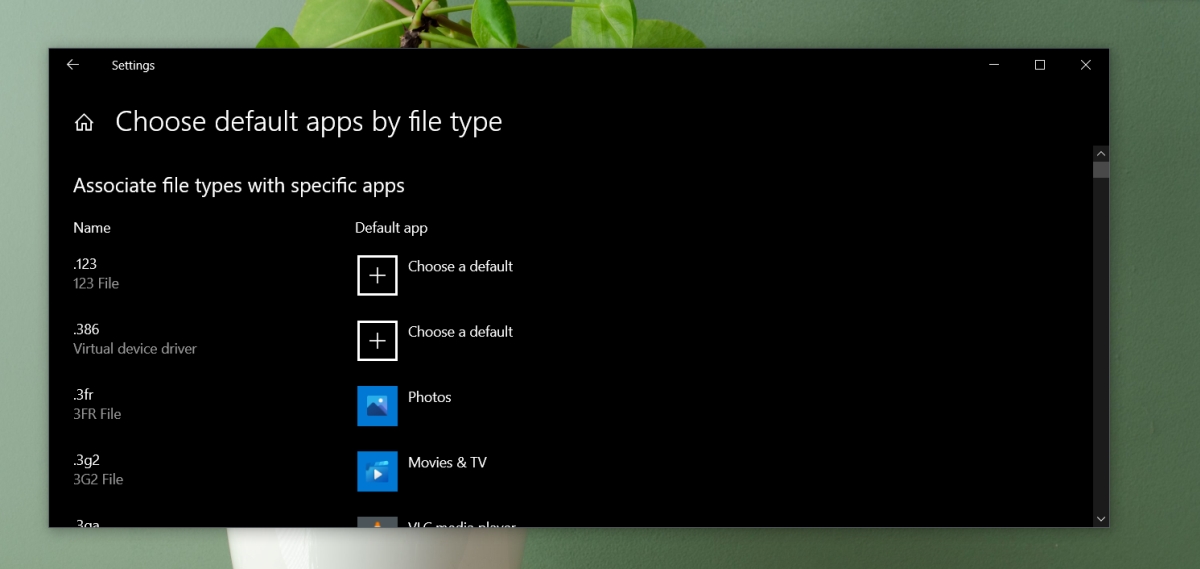 4. Change folder view
Thumbnails for certain files may appear if you change the folder view.
Open File Explorer and navigate to the folder with the file(s) that do not have a thumbnail.
Go to the View tab.
In the Layout box, select a different view e.g., Large or Extra large icons.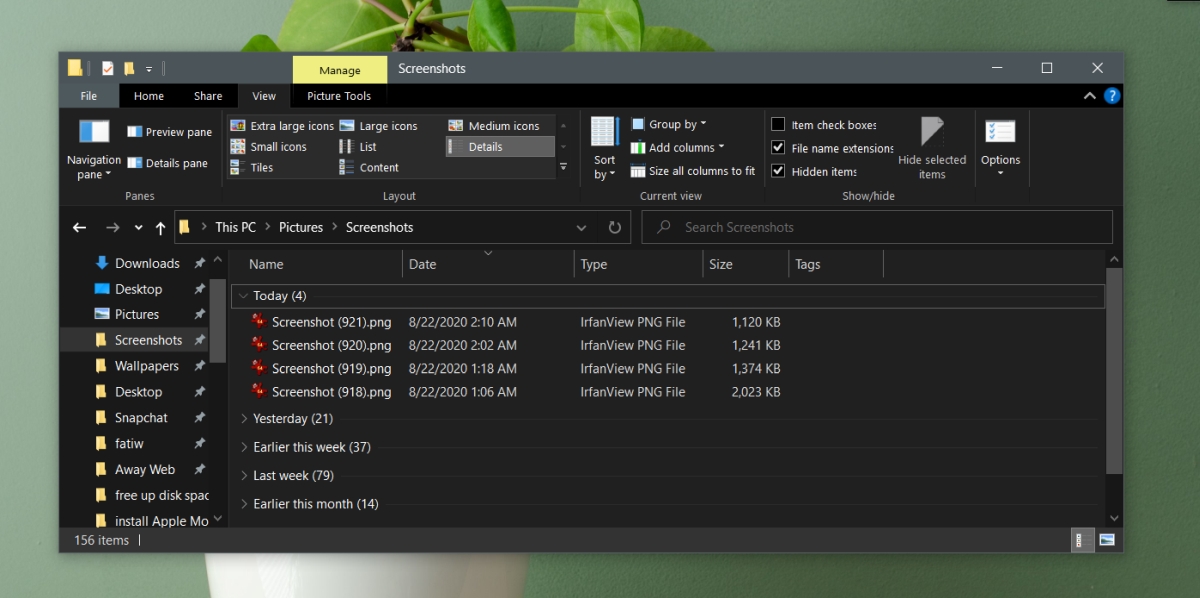 Conclusion
Thumbnails don't often give users trouble; they're a simple UI element that makes it easier to browse files, and because they're not a complex feature, you'll find any problems with them are easy to fix.