It is quite hilarious to hear when people say Windows 7 is crash proof. Please note that no operating system is ever crash proof and there could be many reasons behind every crash. Back in year 2008, we talked about an application called WhoCrashed which helped user determine the real cause behind the crash.
The developer has now released the latest version(release 2.0) which is fully compatible with all versions of Windows 7. There is also an additional feature added to it – ability to reveal the exact drivers responsible for the crash.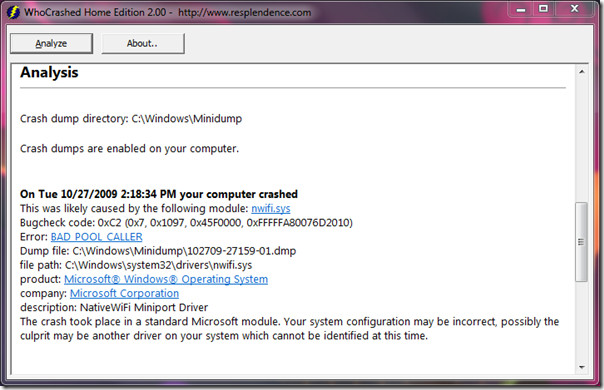 It downloads the Windows Debugging package before analyzing the cause behind the crash. If you already have this package, you can ignore this step. So how can it fix the Windows 7 crash? Once you know the real cause behind the crash it becomes fairly easy to fix the problem. The root cause is something everyone should look for and this app does the job very well in this regard.
It even does the job of telling the reason behind every crash. Once it is fixed, your Windows won't crash anymore.
Download WhoCrashed (can be found in Download page)
It works on all versions of Windows, including the latest Windows 7. Both 32-bit and 64-bit OS are supported. Enjoy!