Fix Windows 7 Slow Copy [File Transfer]
NiceCopier is a small opensource tool that installs as a shell extension and replaces the default Windows Explorer Copy/Move function. It adds several useful features like pause, resume, calculation of best copy speeds, etc. The interface looks more like a file downloader with accurate description of both file transfer speed and data. A perfect tool to fix up the unaccurate and slow Windows 7 file copy operation. Even though we use it to replace Windows 7 file copy, it can be used with previous versions of the OS as well, and especially with netbooks running Windows 7.
Installing the software can be a little tricky. Download and extract the file from the link provided at the end, and run the executable as an administrator (you can do so by right-clicking the file and selecting 'Run As Administrator' if you are using Windows 7 or Vista). The application will appear in the system tray. From here, right click and select Install ShellExtension.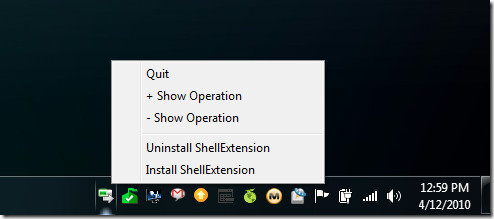 Once the extension has been successfully integrated into the system, it will replace the regular copy/move dialog of Windows. Next time you copy any data, you will see NiceCopier doing the work.
You can pause the copy operation by clicking the pause icon next to the cross. When paused, this icon will be replaced with a play icon, indicating resume operation.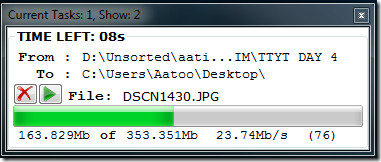 NiceCopier is free and works great with Windows 7, so should do well with previous versions of Windows OS too. One drawback of this tool is that it does not recognize move operation if it is happening within the same disk.
If you want more variety in controlling your copy/paste functions, you can check out our previously reviewed Copy Handler or Talent Copy V.