How to fix Windows Updates stuck at 0%
Windows 10 gets several scheduled update every month; there is normally a cumulative update, antivirus definition update, security patches, and more. Some updates will download and install while your system is running while others will require a restart.
Windows Updates stuck at 0% [FIX]
Windows Updates still run into problems and these problems can be distributed to any part of the installation process. An update may start to download and get stuck, it may show it is downloading but never move beyond 0%, it may download and start to install but get stuck in the middle, or at 0%. There are still many kinks that need to be worked out.
Restart Windows 10
If you have a Windows 10 update that is stuck downloading or installing, the first thing you should do is restart your system.
Open the Start menu and go to Power>Restart.
Once the system has restarted, open the Settings app.
Go to the Update and Security group of settings.
Select the Windows Update tab and check for updates again.
Any updates that are detected will begin to download, or those that have been downloaded will start to install.
Delete and download again
Windows Updates sometimes download with errors that prevent them from installing correctly. If the update is stuck, delete it and download it again.
Open File Explorer.
Paste the following in the location bar and tap Enter.
C:\WINDOWS\SoftwareDistribution\Download
Delete the files here. You will need admin rights to delete them.
Open the Settings app and go to Update and Security. Select Windows Update.
Check for updates again and Windows 10 will download them again.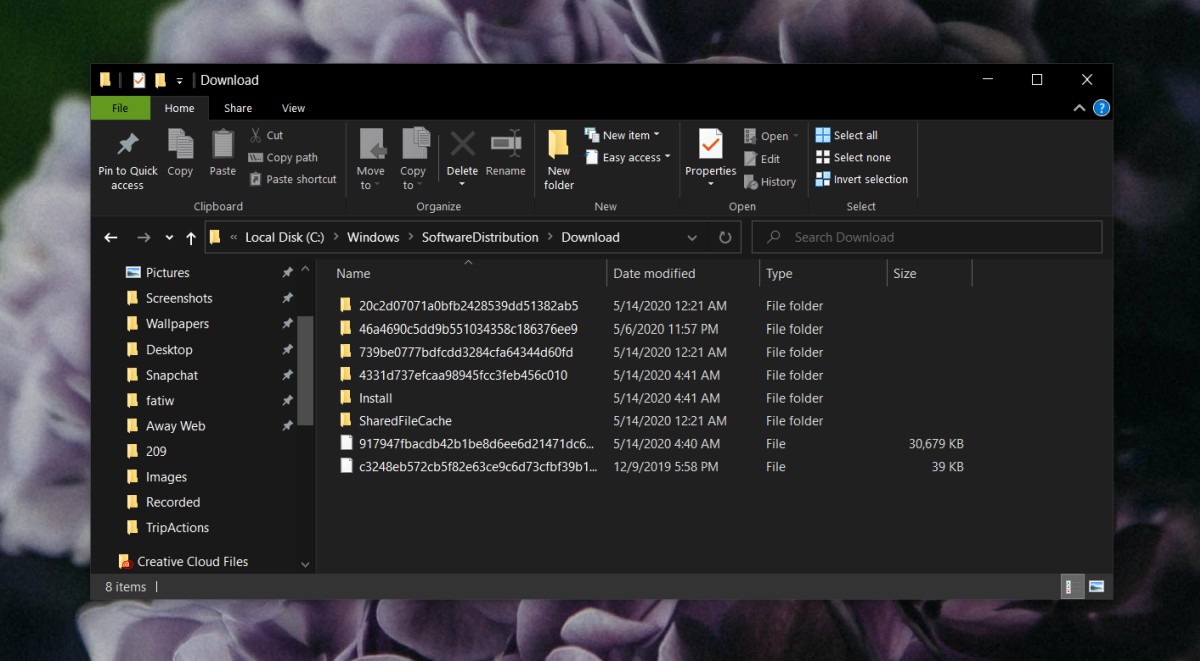 Install other updates
You may have one or two updates stuck during download or installation while others are ready to be installed or need to restart your system. Install them all first, and restart the system as many times as needed to finish the process. The update that is stuck may rely on the other updates to be installed before it can proceed with its own installation.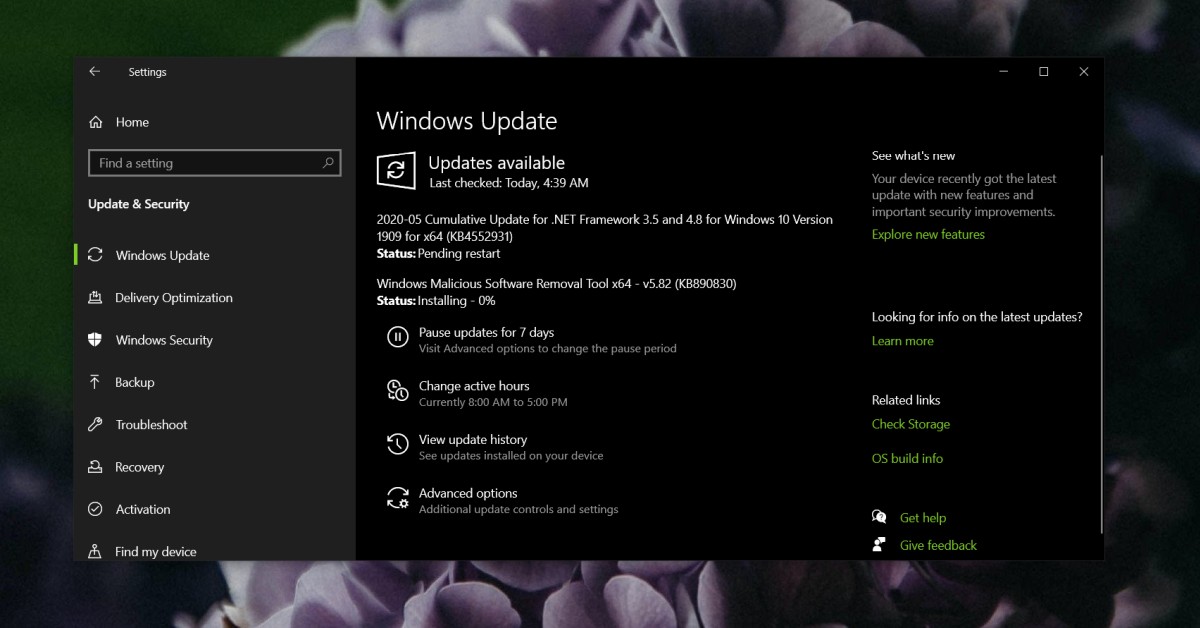 Run Troubleshooter
Windows 10 has a troubleshooter for Windows Updates because problems with it are common enough.
Open the Settings app and go to Update and Security.
Select the Troubleshoot tab.
Select Windows Update to run the troubleshooter and apply all fixes that it recommends.
Check disk space
Windows 10 normally reserves a bit of storage space on the Windows drive so that it can install updates without running into trouble. If you've turned reserved storage off, and you're low on disk space, it might be preventing the update files from downloading or installing.
Check the disk space on the Windows drive and make sure you have at least 20GB free space. If you don't, clear some space up and try downloading/installing the update again.
Restart Windows Update service
Restarting the Windows Update service might trigger the download/installation to start as well.
Tap the Win+R keyboard shortcut to open the Run box.
Enter the following in it and tap the Enter key.
services.msc
Look for the Windows Update service and right-click it.
Select Restart from the context menu.
Return to the Settings app and check for updates again.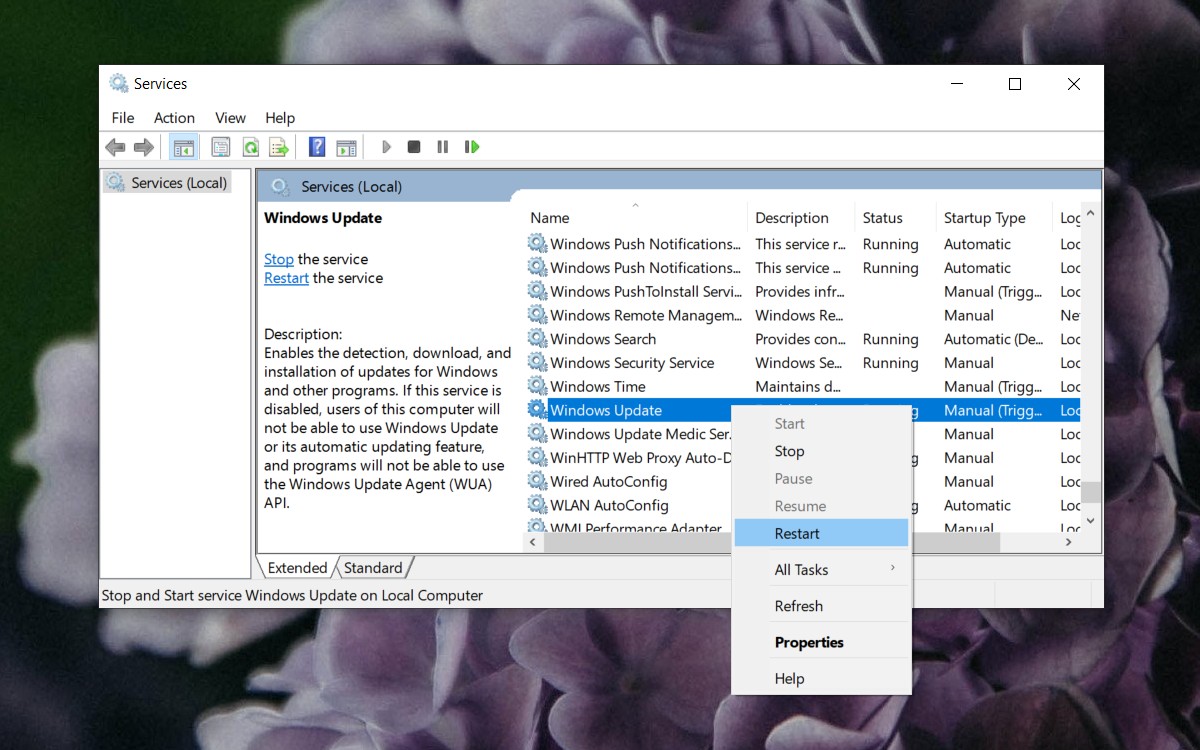 Manually download and install updates
Microsoft has its entire updates catalog available online. Users are not bound to install updates from inside Windows 10. We just do it because it is easier. If you're unable to install an update from Windows updates, visit the online catalog, find the update you want to install and download it.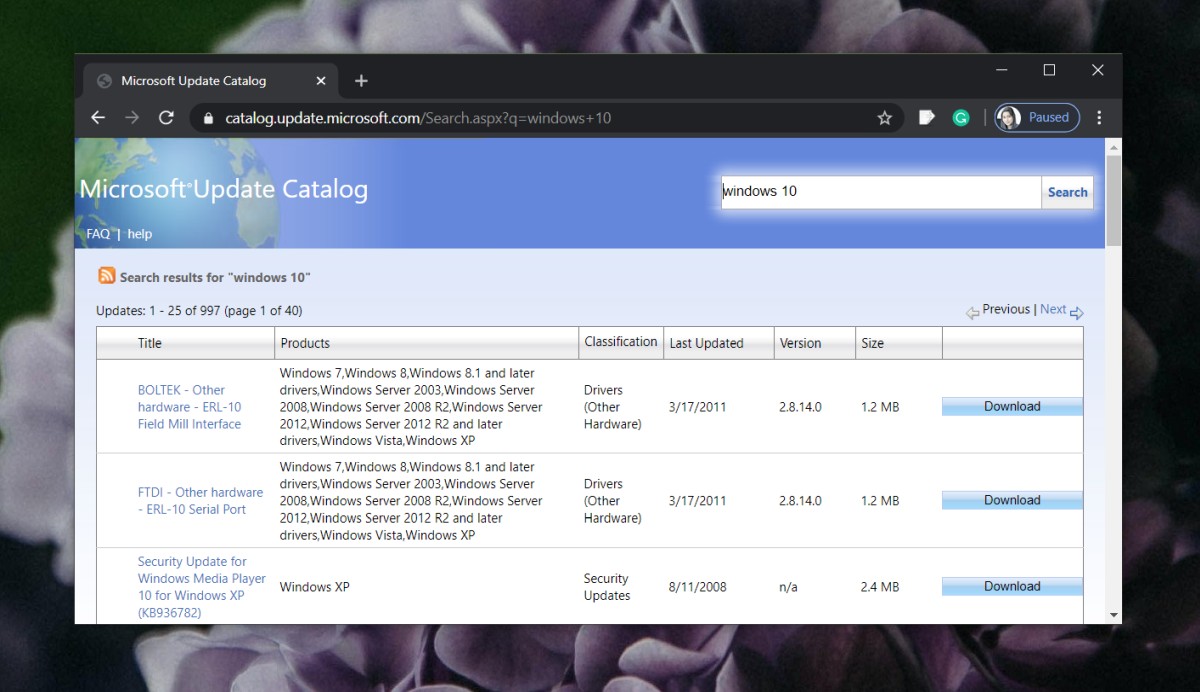 Conclusion
A Windows update can get stuck for all sorts of reasons. Sometimes, it's a good idea to wait until more updates are available and see if the stuck update will download or install then. There are still quite a few problems that need to be worked out with how updates are delivered and while Microsoft has improved things quite a bit, there's a long way to go. Windows updates are nowhere near as stable as macOS updates.