Fix wmpnetwk.exe In Windows 7
So I asked a friend to get Windows 7 and the first complaint was that wmpnetwk.exe is taking too much system resources. In some cases the resource consumption goes up to 90%. According to Microsoft, this was a small bug in RTM release but should not happen in the official public release.
To all those who don't know, wmpnetwk.exe is a process of Windows Media Player Network Sharing Service. Hit Ctrl+Shift+Esc and head over to the Processes tab, you will find this network service taking between 5Mb-10Mb of memory.

If wmpnetwk.exe is taking a lot of system resources, it probably means something is wrong. The best way to get rid of this problem is to disable this service once and for all.
Note: This service will be required if you want to share media or stream it over the network using Windows Media Player. Since I am a VLC Player geek, Windows Media Player does not appeal to me.
There are many people who need this service, so here is a quick fix; stop the service, change startup type to manual, restart the computer, and then change the startup type to automatic. I have elaborated these steps below.
Click Start, type services.msc in Start Search and hit Enter. Now search for Windows Media Player Network Sharing Service from the list, right-click it, and hit Stop.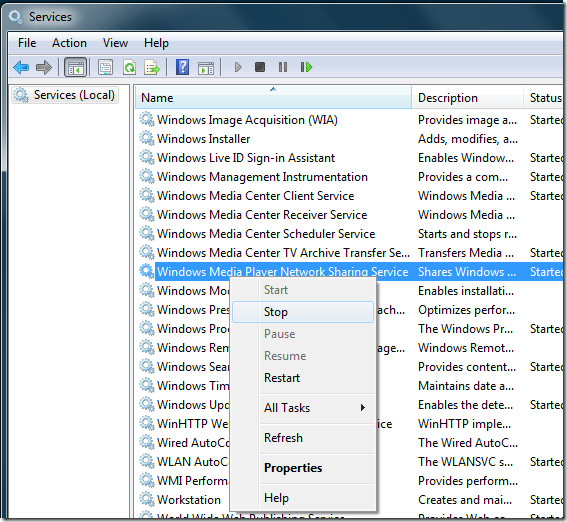 It will take some time to stop the service. Once done, right-click this service again and select Properties. Change the Startup type to Manual and restart the computer.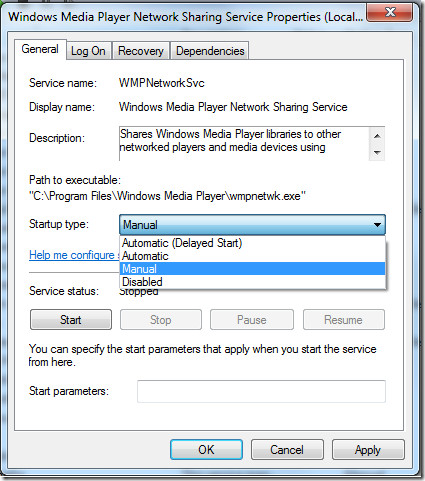 Once the computer is restarted, head back to the Properties once again and change the Startup Type to Automatic. The problem should be resolved by now!
Extra Note: This problem is effecting a very small number of users only and is not something Microsoft is planning to resolve in the upcoming service pack. If you have never used Windows Media Player and use 3rd party players, such as, VLC, then you can always disable this service to save system resources.