Forex Strategy Builder: Create, Manage & Back-Test Trading Algorithms
For financial analysts and enthusiasts keeping track of the Forex markets, trading algorithms play a key role in getting the most out of the market. Trading strategies enable you to decide when to enter and exit the market based upon defined rules. Such rule-based strategies are devised by keeping a close eye on a large number of technical indicators and trends like price patterns to achieve maximum profit. There are a variety of trading algorithms available online, but most of them cost you money and you would require third-party tools to verify their impact. Forex Strategy Builder is a powerful utility that equips you with over a hundred technical indicators and extensive analysis tools that allow you to create, modify and assess the impact of your trading strategies through back-testing based on relevant historical data.
During installation, the setup will ask you to enable usage statistics sharing for the program improvement and development. If you are concerned with privacy and do not feel comfortable with anonymous usage statistics access, enable the Do not send anonymous usage statistics option.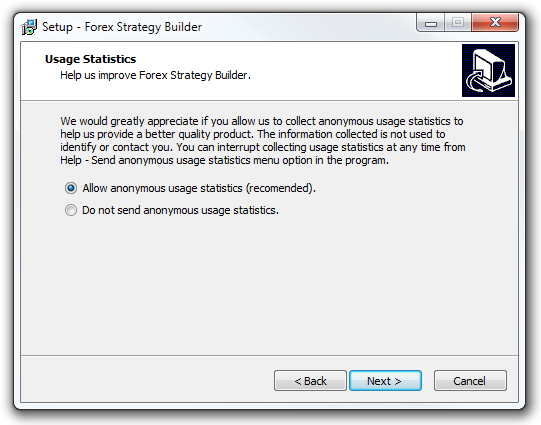 The Forex Strategy Builder welcomes you with a feature-rich interface while creating a new strategy as an XML file for data maintenance and manipulation. It is organized into various sections displaying data both graphically and numerically. The Market Statistics section highlights the currency, symbol, time period and updating details while the Indicator Chart illustrates the market trends, qualitatively. Similarly, bar details are organized in a tabular format indicating opening times, amount, average price, direction, spread, roll over, commission and more. You can also switch between multiple scenarios between, pessimistic, optimistic, shortest and nearest analytical standpoints. The strategy is based on indicators placed in a specific slots (may it be the Opening Point of the Position, Opening Logic Condition, Closing Point of the Position and Closing Logic Condition). These are then summarized in the central part of the workspace under Strategy Properties.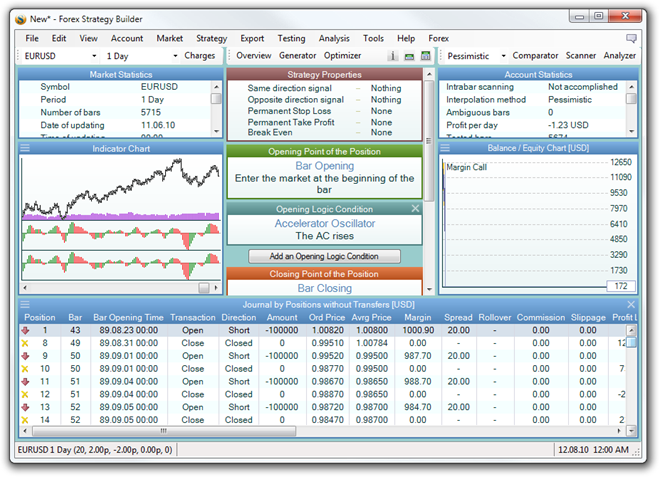 You can click the bar of interest to see the price route inside the bar using the relevant interpolation method. You can browse through multiple graphs by clicking the navigation buttons at the bottom of the Bar Explorer.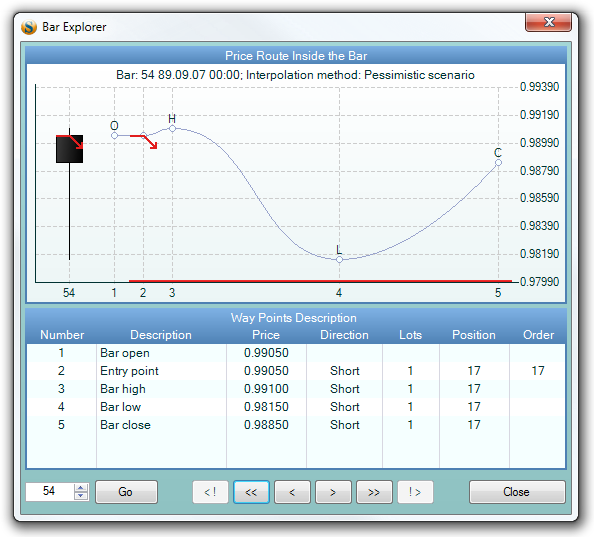 Furthermore, you can benefit from the extensive Tools ranging from the Comparator, Scanner, Optimizer, and more coupled with Custom Indicators. The built-in calculator can be accessed through the Additional Tools or the F12 short key. To clear preferences, select Reset Settings.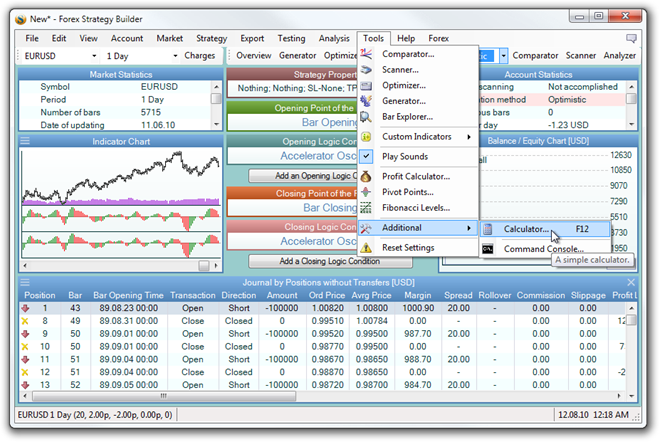 Another distinguishing feature of this application is the Strategy Analyzer that allows you to generate Over-optimization Report based on custom parameters. Results can viewed using charts and saved in the form of Excel sheets.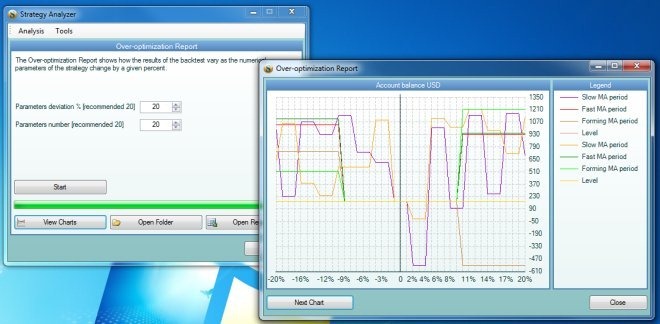 The utility saves strategies in XML documents and supports 7 different languages. We tested this powerful software on Windows 7, 64-bit edition. It also supports Windows XP, Windows Vista, Windows 7 and Windows 8.
Download Forex Strategy Builder