YAPM: Powerful Network Monitoring Tool & Windows Task Manager Alternative
For IT managers, administrators and advanced users, the built-in Windows Task Manager may not fulfill the tools required for comprehensive analysis for system monitoring and diagnostics. Yet Another (Remote) Process Manager is a lightweight utility that equips you with all relevant information related to the ins and outs of your system. It can be used in standalone mode or can act as a replacement for the Windows Task Manager, depending on your requirements. With advanced features like local & remote monitor, module & thread management, TCP connection viewer, dependency viewer, emergency hotkeys, privilege management, system snapshot feature and more, it is an all-in-one process manager promising valuable insights for system optimization. It is particularly useful in remote monitoring while report generation and process prioritization pave the way for effective documentation and support.
As soon as the installation completes, you will see a resourceful interface with a wide range of feature rich buttons organized in a ribbon interface. Shortcut buttons also save time by providing functionalities like log files, system information, hidden processes, process finder, system snapshot, signature check and the like to the disposal of a single click. Moreover, critical functions are grouped under the relevant tabs in the ribbon interface with Tasks, Processes, Jobs, Monitor, Network management as highlights. The Processes tab allows you to create, kill, pause or resume processes from an extensive list of active processes organized with their name, resource usage, priority and running time. The Priority button allows you to define the nature of processes in order of importance to your needs, so that resources are allocated accordingly, ensuring an optimized yet specialized performance. You can save this information for documentation by clicking the Save Report.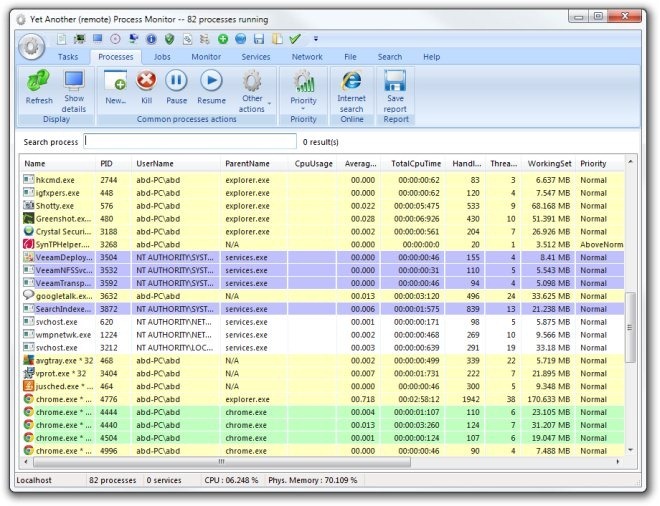 The detail-oriented level of process-specific information is a distinguishing feature of this application. Select any process from the main list and click Show Details to reveal general and specialized details with online support and handy response buttons (like Kill, Pause, Resume, etc.).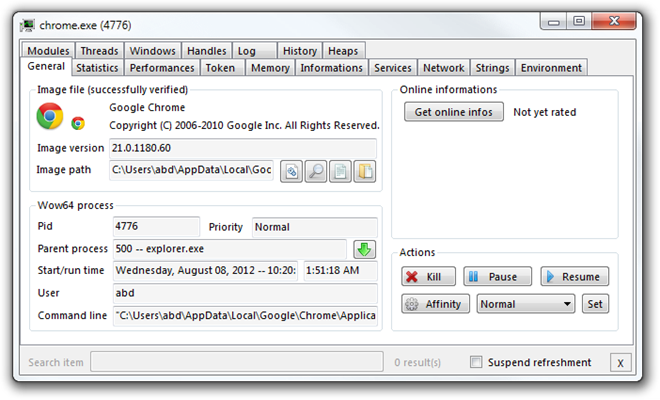 The Network tab includes network monitoring facility for both local and remote connections with emphasis on protocols (like TCP), state (Listening, CloseWait, Established, etc.) and the related process. Click the Refresh button in case of any anticipated changes.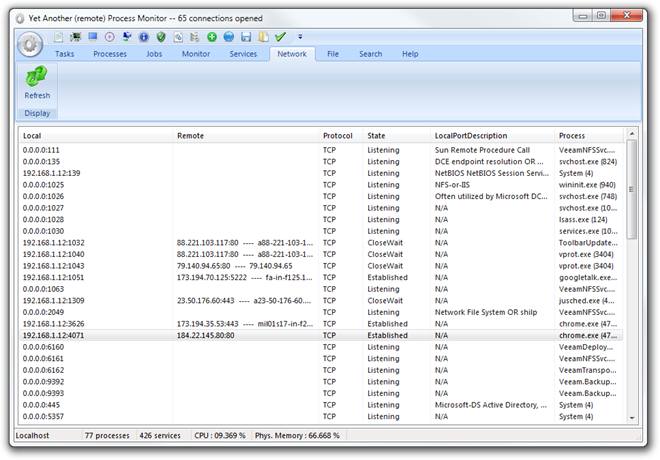 You can define counters and variables for multiple items. The Monitor tab displays real-time information graphically with CPU and Memory Usage highlighted numerically at the bottom pane of the window.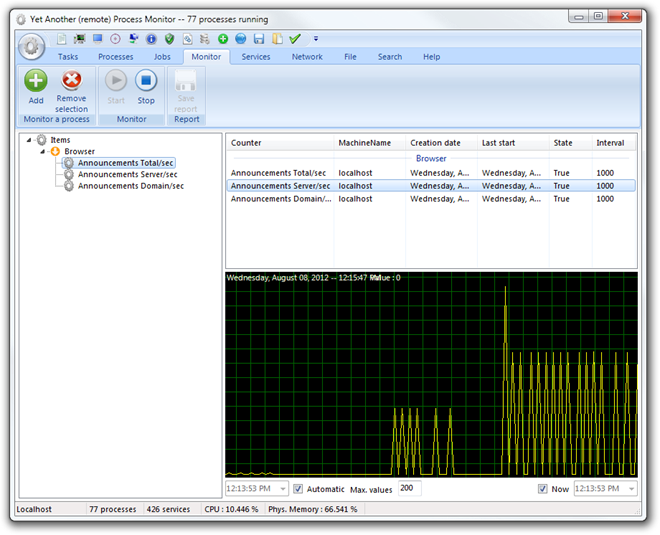 To access most of the critical features with a single click, you can right click the system tray icon for access to the context menu, allowing you to modify the notifications and refreshing intervals.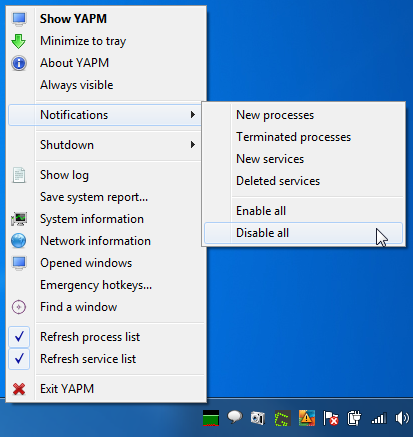 In conclusion, Yet Another (Remote) Process Manager (YAPM) is a powerful utility for system and network monitoring and diagnostics. We tested it on Windows 7, 64-bit edition. The application supports Windows XP, Windows Vista, Windows 7 and Windows 8.