Easy File Locker: Lock Files And Folders On Windows 7/Vista
If you are looking for a complete utility to lock your confidential files and folders on Windows 7 or Windows Vista, your search should end here. Easy File Locker is what you need. It is an all-in-one utility with minimalist user interface and is much easier to manage than most similar tools in this category.
There are some utilities that do an awesome job in locking folders, some are great in locking files, but hardly would you come across a tool that does both.
Hit Add(+ icon), select a file or folder that you want to lock, and choose the options. There are four options given, Accessible, Writable, Deletable, and Visible.
If you want to permanently lock it, uncheck all four options, otherwise you can always make a file accessible but not writable or deletable. If you don't want anyone to have a look at your important files and folders, you can also choose to make them invisible along with options that prevent the files from being accessible.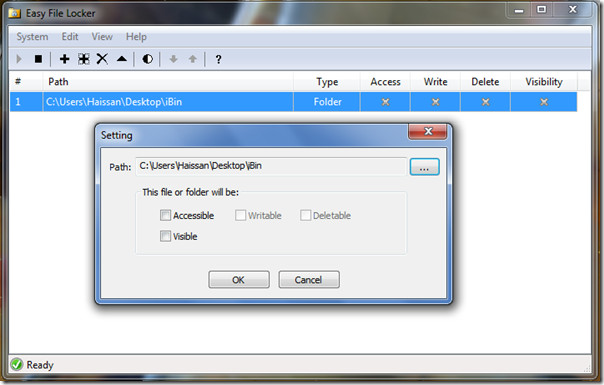 The information of every file and folder path are given next to them on the main window. As you can clearly see from the screenshot above, I have prevented the access, write, delete, and visibility of a folder.
To prevent the protection, hit the Stop Protection option or icon on the main window. This is extremely useful since you won't need to unlock all files and folders manually.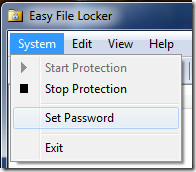 An important question arises here, what if someone gets hold of this app? You can always password protect Easy File Locker app and make sure that you don't forget it.
Note: In case you forget the password there is no way to access the files and folders since they will remain permanently locked.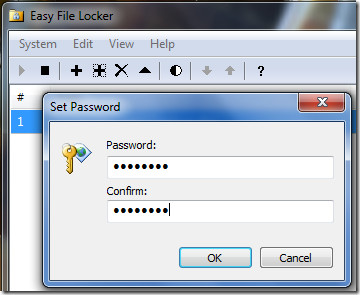 Most locking apps are useless crap since they can be uninstalled easily. Easy File Locker however asks for password during uninstallation which means nobody can mess with you and your data.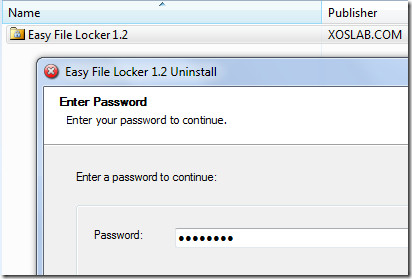 My long search for an all-in-one locking tool finally came to an end with this app but another problem arised. It only works on 32-bit operating system which is a real shame. Since more and more users are migrating to 64-bit OS, the developed might want to add support for 64-bit as fast as possible.
If you are using 32-bit OS, consider yourself lucky. To all those using 64-bit OS, we will update you when the developer releases a new version to support 64-bit.
Apart from Windows Vista(32-bit) and Windows 7(32-bit), it works on Windows Server 2003 and Windows XP as well. If you are using Windows 7, try the build-in Bitlocker to secure your drives.
Editor's Extra Note: Everyone falls for wrong software sometimes and I am not the only one who relied on half-baked applications before to secure my data. Make sure you do not make mistakes like me when choosing the right software.