LockCrypt Information & Password Manager
LockCrypt is the only free information management tool out there that people will actually find it useful. Unlike other complicated password and information managers that takes forever to input, organize, and access information, LockCrypt believes in simplicity since it has the most straightforward and easy-to-use UI(user interface) I have ever seen in this category.
Combined with powerful features and high encryption, it is one of the must have tools out there for managing important information, contacts, and passwords.
Any information ranging from serial numbers and medicine prescription to driving license and membership cards can be entered for future reference. This can be useful in case you lose information or cannot memorize them due to information overload or laziness.
If you want to access the information from local computer then you should choose XML database, otherwise select MySQL to access the information from different location(i.e, home and work).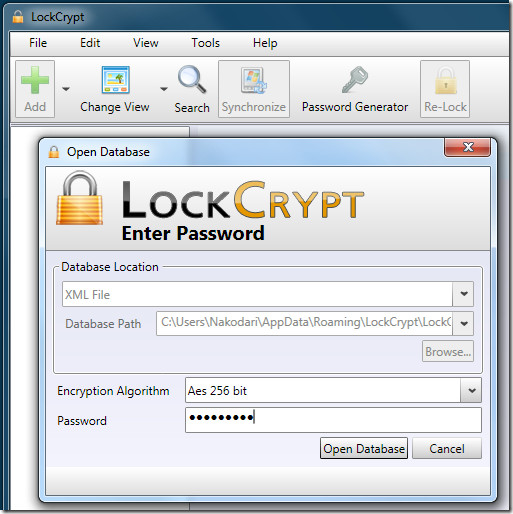 Adding a new account is as easy as eating a pie. Hit Add, give the account a name, choose the group in which you want to add, and select the template. You can also add extra notes and add an icon for better visibility. It is better to group your accounts for faster access, groups can be added by right-clicking the left sidebar and selecting Add Group option.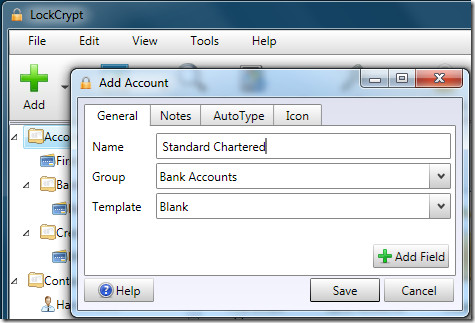 The app itself contains loads of functionalities, such as, build-in password manager, secure clipboard to protect password, synchronize information across different computers, ability export information to XML, CSV, HTML, TXT file, drag & drop interface, supports printing of output, and much more.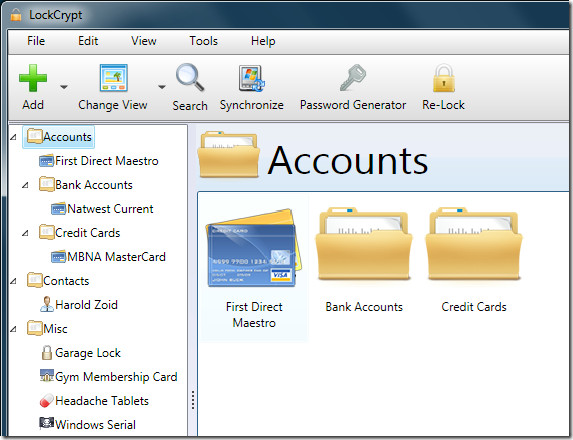 LockCrypt also has a mobile version developed for Windows Mobile and Mobile J2ME, sadly it lacks proper integration with but has left both iPhone and Android in the dark.
It required .NET Framework 3.5 SP1 and works on Windows XP, Windows Vista, and Windows 7. There is also a Java version of the app which is developed for Linux and Mac OS.
For more, have a look at our previously reviewed password managers, Password Provider and Secure Password Storage, both are basic apps only and no match for LockCrypt.