Free Editor: Powerful All-In-One Document, Image, Hex And Resource Editor
We often come to the need of editing various types of files but unable to find the appropriate software at disposal. Free Editor is a powerful editing software that does this job for you by letting you edit most types of files under one roof. The list of files supported by the program is staggeringly huge. It lets you edit Microsoft Office files, for instance, DOC, XLSX, PPTX, DOTX, DOCX, VCF etc, image files such as JPEG, RAW, ICO, GIF, TIF, PSD, BMP, PNG and so on. Several kinds of coding languages – for example JSP, CS, SQL, VB, KML, ASPX, PHP etc – are also supported by this tool. In addition, you can also edit some Windows extensions, including EXE, SCR, DLL, just to name a few, as well as other types of documents, such as EPUB, WPS, PDF, WPD, TXT, LOG, QIF, RTF, XML, BAT and so forth. With all this power under the hood, this is one of the most comprehensive file editing software solution I have ever come across. The application comprises of four major components, i.e., Document Editor, Image Editor, Hex Editor and Resource Editor. It's quite a handy tool to quickly give touch ups to the supported files, should you not find the required application for editing them. The intuitive UI contains sufficient amount of options, and can be of great use for both novice and power users alike.
Free Editor's Document Editor is powerful enough to satisfy most of the basic editing requirements. The Quick Access bar at the top contains various action shortcuts, such as Open, Refresh, Save, Save As, Undo, Redo, Copy, Paste, Zoom In, Zoom Out etc. Contrary to popular Toolbar placement at the top, Free Editor houses its Toolbar at the bottom. It provides almost all editing features, letting you change Font type, color and size, modify Font style to Bold, Italic, Underline and Strike through. You may also modify and insert other items in the document body, including Rows, Columns, Split cells, Grids etc.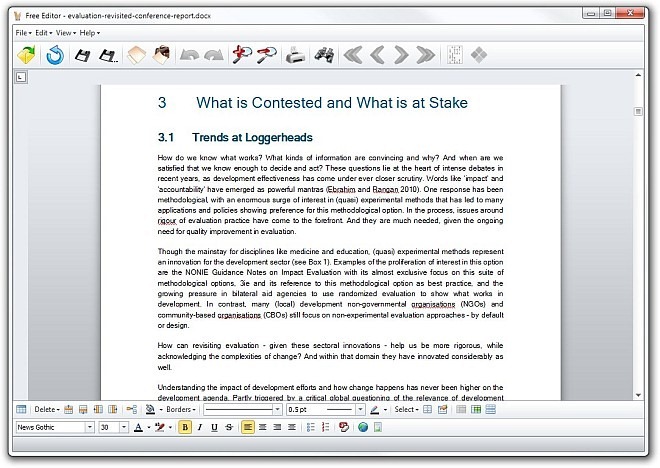 I also threw in a couple of Microsoft Excel files at Free Editor, and the application absolutely didn't have any problems in opening them. It allows you to Add and Insert excel sheets, Rename Active Sheet, as well as remove a single or all the sheets. It also opens and renders the files as they should, without disturbing original alignment of the added objects such as images.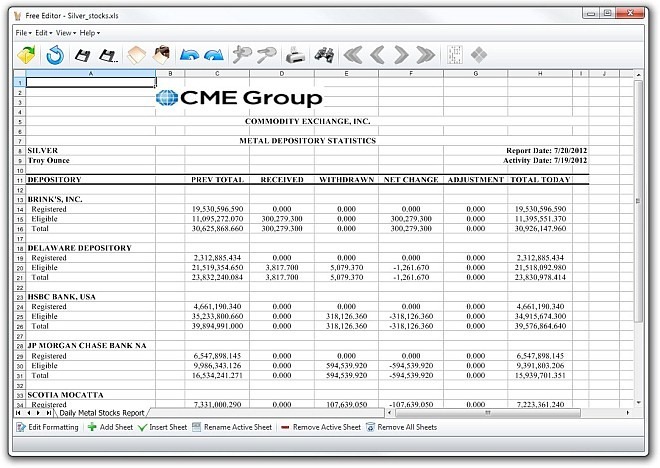 Thankfully, the utility also comes with an integrated Image Editor, which provides a few basic fine tuning options. For example, it enables you to Rotate, Crop and Resize the image, and furthermore you may apply Blur, Sepia and Grayscale effects, and adjust image brightness and contrast.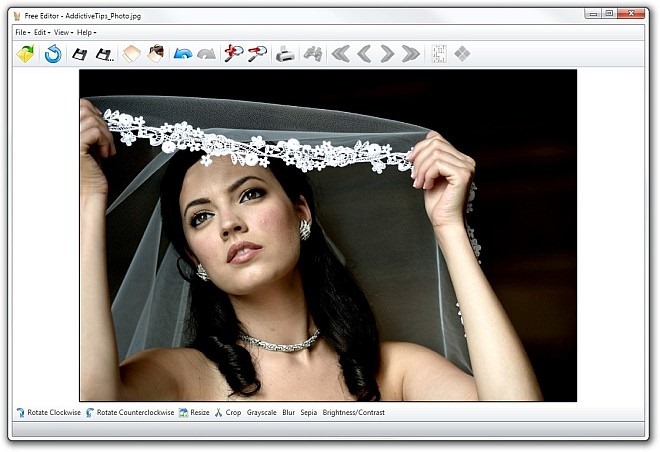 The other two major functions of the program are built-in Hex Editor and Resource Editor, both of which can be accessed from the Quick Access bar. Hex Editor allows editing various system files, while on the other hand, Resource Editor provides other advanced editing such as editing your file icons.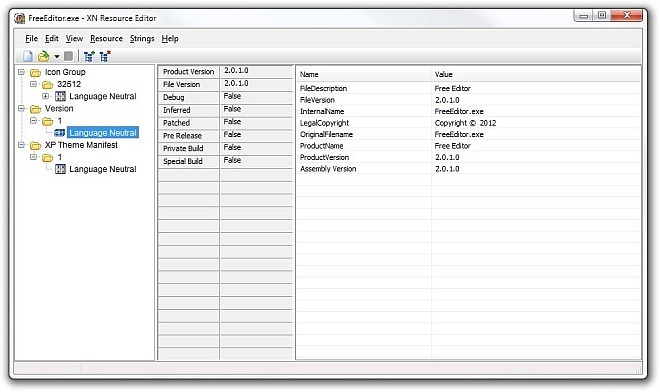 I was surprised to see that you can only edit existing files, and should you need to create a new text or document file from scratch, the software doesn't let you do so. Other than that, Free Editor is an efficient application that packs various useful tools underneath one umbrella. It works on Windows XP, Vista, Windows 7 and Windows 8.