Free Microsoft Project 2010/2007 Online Viewer [.MPP Viewer]
Microsoft Project is a project management software that is branded as Office but is not available with Office suits, it is always available separately. We have discussed about viewing Word(.doc/.docx), Excel(.xls/.xlsx), PowerPoint(.ppt/.pptx), PDF(.pdf), and other popular documents online, but what about Microsoft Project(.mpp)?
Ofcourse Microsoft Project is not so mainstream among common home user but is one of the most used project planning software in corporate industry. Now what if you want to view a Microsoft Project file but don't have Project 2010 or Project 2007 installed? A bigger question arises when you need to share a project with someone who is using OS other than Windows, lets say, Mac or Ubuntu.
Projec.to is an online service developed only for the purpose of uploading and sharing Microsoft Project(.mpp) files. There is also an option to embed the project on any blog or website, a great way to share the ideas with the community.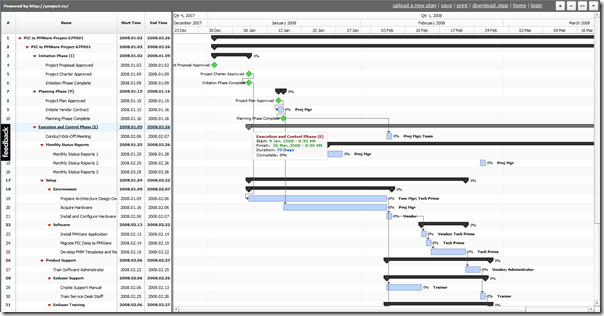 Click the above image to enlarge
It originally has paid plans but you can create a free action that allows you to upload, view, share , and embed public MS Project plans and templates only.