Free PDF Image Extractor Lets You Save Images From Multiple PDF Files
While working extensively with PDF files, we often need to extract high quality images from the PDFs for creating separate documentation in other formats. Earlier, we have covered Fusion PDF Image Creator for Windows and PDF Toolkit for Mac OS X, whereby the former only supports image extraction from a single PDF file and the latter provides numerous PDF manipulation features, but limited only to Mac OS X platform. Although, it takes up a lot of time in extracting images from PDFs manually, you can save more time if a large number of PDF files could be automatically converted and saved in respective folders. Today we discovered Free PDF Image Extractor, which allows you to effortlessly extract images from multiple PDF files and automatically organize them for the better.
Free PDF Image Extractor is a lightweight tool and offers a simple usage. Once installed, launch the application and drag the PDF files over the main window. Alternatively, you can click Add Files button on the left corner of the toolbar to add the documents. Using the Add Folders option available on the toolbar, you can add a PDF document folder and convert all the contained files in one go. This image extractor also supports Import File List feature that may help you quickly add PDF files from different locations.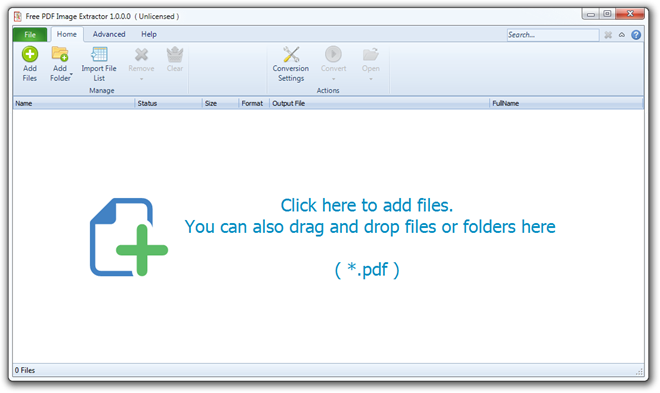 After adding the PDF files to the list, you can configure the Conversion Settings for optimum results, set the output folder path and file organizing method. A new progress window appears after clicking the Convert button. Please note that clicking the main Convert button converts all PDF files. If you want to convert only selected files, then select the files from the list, select Convert Selected Files from Convert drop-menu.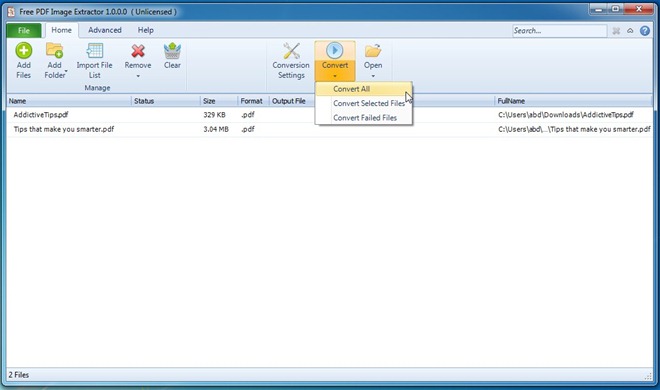 Another distinguishing feature is the support for encrypted PDF files. When an encrypted PDF file is added, a window, similar to the progress window, appears asking you to enter the password in order to extract image from encrypted PDF files.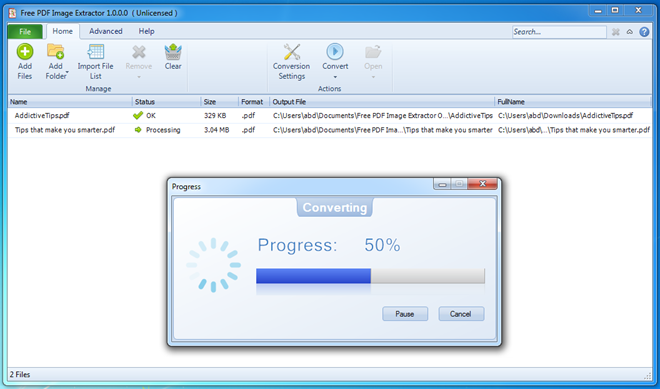 As soon as the image extraction is successfully completed, you can open the output folder and verify the converted files. Each file in the output directory represents a PDF file and within these folders, all extracted images are stored with the relevant page numbers as file names. The images are saved in the PPM format that can be viewed using image viewers like IrfanView.
The only drawback noted is the lack of image format flexibility. The images are saved in the PPM format, and it doesn't support widely popular formats like JPG or PNG. We tested this application on Windows 7, 64-bit edition, while it is compatible with Windows XP, Windows Vista, Windows 7 and Windows 8.
Download Free PDF Image Extractor