Official Autodesk ForceEffect Android App Hits The Google Play Store
Such enormous has been the impact of smartphones and tablets on our lives, that these powerful gadgets are now starting to emerge as helpful tools in their own accord. In fact, their usage has transcended beyond just calling, texting, navigation and socializing to a point where you can expect your device to assist you with virtually anything that AI possibly can. Ranging from resolving medical issues to helping engineers with complex calculations and measurements, rest assured that you'll find an app designed for a specific purpose. With renowned companies, such as Autodesk, diverting their attention to mobile platforms, users belonging to the latter category know that they can breathe easy, since they have been, thus far, introduced to some quality apps on a consistent basis. Be it Design Review, AutoCAD WS, Pixlr-o-Matic or any other Autodesk app, each presentation of the company has been praised and acknowledged alike. The latest to join the club is Autodesk ForceEffect – an Android and iOS app aimed specifically at engineering students. Featuring a host of easy-to-use, state-of-the-art designing and measurement tools, the app makes design analysis and report generation on mobile a breeze.
Just like its previously released iOS counterpart, the official Android app of AutoDesk ForceEffect also brings several useful engineering tools to the table to save you from the chores involved in hefty paperwork, (force-related) calculations and manual designing of static systems. Instead, the app allows you to instantly capture an image (or import one from your gallery) as the free body diagram, on which you are required to perform necessary calculations.
Different tools included within the package to cater to your construction-oriented designing and measurement needs let you:
Create new elements (including the construction elements), distributed loads, moments and known/unknown forces.
Set the diagram scales, object dimensions and break element at joints
Learn about the degree of freedom of an object (via visual indicator)
Create supports (sliding pin, fixed pin, grounded support, fixed joint crossing and welded crossing)
Add and adjust weight to elements accordingly
There are several design templates to help you with getting a grip over the app's features. Likewise, there is adequate helpful material included within the entire package that lets you understand the ideal scenario for using a particular tool. The canvas itself can be zoomed in/out to expedite focusing on a specific element.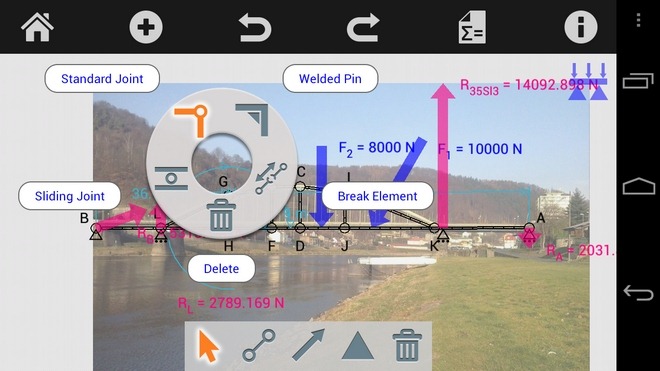 Long pressing an element or the background reveals a radial panel that houses content-intensive tools, using which you may modify the relevant object's values, dimensions, perspective and angles accordingly. To toggle between Imperial and Metric units, align the main dock along the right edge of the screen, or specify default values of other generic items, tap Menu > Settings.
Once a diagram has been finalized, you may save and upload your work to Autodesk 360, export it via email or as a DXF file, or head over to the app's detailed reporting section. Each report generated by Autodesk ForceEffect is supplemented with ample helpful content, including equations & their results, shear & moment diagrams, and can be exported via email.
Autodesk ForceEffect is available in the Google Play Store for free, and requires Android v2.2 or higher to run.
Download Autodesk ForceEffect for Android
Download Autodesk ForceEffect for iPhone, iPad & iPod touch