Free Video Dub: Lossless Video Editor To Trim AVI, MPG, MP4, FLV Files
Earlier, we covered video editing applications for AVI files, including Solveig Multimedia AVITrimmer and AviDemux, which allow users to crop video length without having to encode video files. There are numerous video converters available out there that can trim a wide range of video formats, but require third-party codecs to convert video files in order to crop the videos. Free Video Dub is an application to edit AVI, DivX, Xvid, MPEG4, MOV, M4V, MPG, FLV, and MPEG 1 & MPEG 2 including both transport and program stream without requiring you to encode the video. Moreover, it includes numerous track navigation controls to grab the frame you want to crop out from the video. Apart from jump to next and previous frame options, it can browse through the video by scenes, letting you quickly crop multiple scenes from video file.
Since the application doesn't require encoding the video file to trim the length, the time it takes to crop out the required frame is relatively less than other encoding-based video editing tools. The installation wizard includes DVDSoft toolbar for all installed browsers. You may want to uncheck these installation options to prevent adding toolbar to your installed browsers.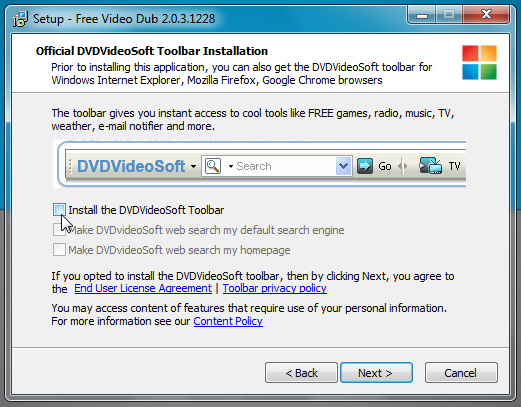 Once installed, launch the application, and specify the video file which is to be edited. By default, it saves the trimmed video in source folder, but you can change the default output folder from Options dialog. When video is loaded in editor, click Play or use track navigation controls to find the starting point and ending point. On the starting point, click Trim Left, and then move to ending point and hit Trim Right button.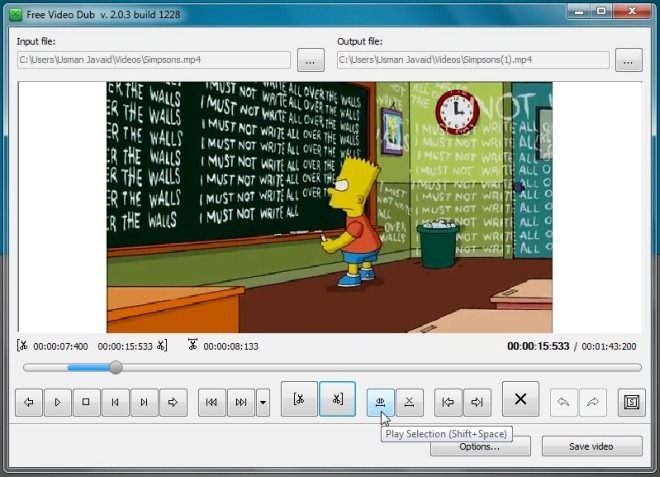 Once you've selected the video part, click Play Selection to watch the part that is to be trimmed. Once done, click Save Video to begin the video trimming process. The time it takes to trim the video depends upon the length of trimmed part of video.  Free Video Dub works on Windows XP, Windows Vista and Windows 7.