FreeSizer Is Fast Profile Based Image Resizer
Many image resizers don't show dimensions and estimated size of resultant images, which leaves users to the moment where they have to manually evaluate the size of the images, and in some cases, check size of each converted image to resize the original imageset again to get the required size. Profile based image converters, in contrast, lets you quickly convert images for numerous pre-defined purposes, such as, send images through email, share images on social media platforms, make image size compatible for mobile devices, etc., without giving details regarding resultant image size and dimensions.
FreeSizer is different from traditional image resizing tools available out there. While it lets you choose profiles for E-mail, Instant Messenger, Social Networks, iPhone/iPod, you can also check the new dimensions and estimated size of images which are lined up in conversion queue. This enables user to set the dimensions and size of the images before starting the batch conversion process.
Just like any other image converter, custom mode is available to set the height and width of the images manually. FreeSizer supports simple drag & drop behavior. You select multiple files and drop them over to main interface to let it automatically calculate the estimated size and dimensions according to selected profile.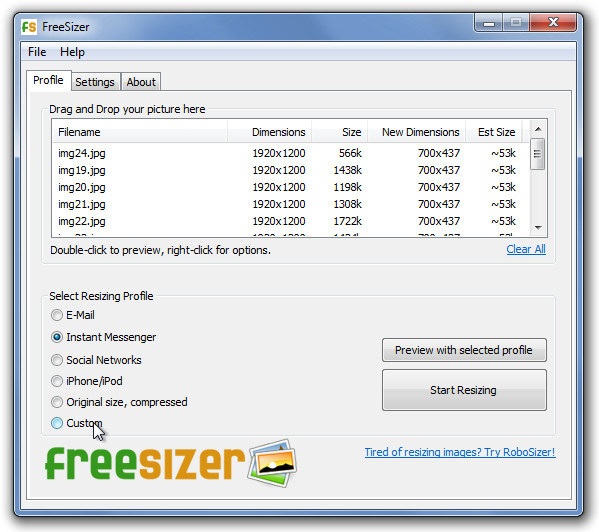 Before hitting Start Resizing, move to Settings page to enter prefix which you want to append to converted image titles, and if you've selected custom mode, enter the height and width of images. Here, you can specify output folder, set the image quality, and tweak with other general settings.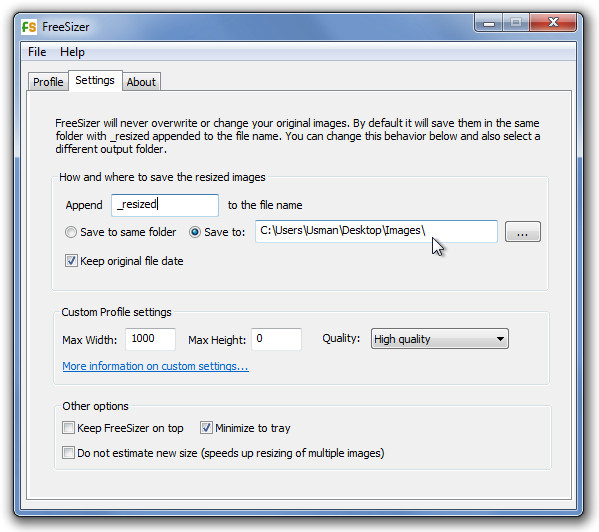 Once you've configured the settings, move to Profile tab to start the conversion process. After the conversion is finished, it will show the accumulated disk space that you've saved by converting images. FileResizer is a lightweight application (740KB) that works on Windows XP, Windows Vista, and Windows 7. Both installer and portable versions are available for 32-bit and 64-bit Windows OS editions.