GeeTeeDee Is User-Friendly Lightweight Getting Things Done Software [Windows]
At AddictiveTips, we are huge fans of Task Management software, not to mention the countless desktop and online tools we have already reviewed before. Today we came across GeeTeeDee, an awesome lightweight and straightforward task management application that keeps you focused on what is really important – Getting Things Done!
Leaving the name aside, this application looks as if it has been developed by the Dropbox team. The clean interface gives it a minimal look to keep you focused and the tasks grouping makes it a perfect organizer. Unlike other task managers which comes with countless options and features, GeeTeeDee is the most simplest you will see out there.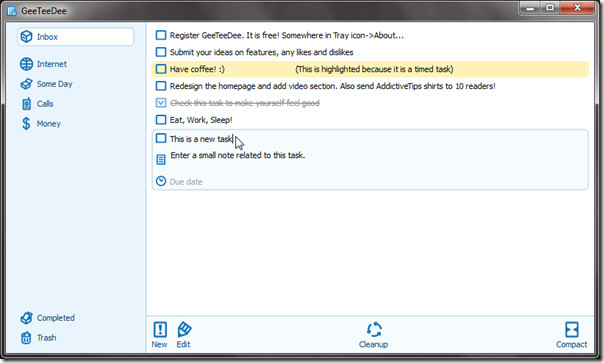 Supporting drag & drop, you can organize and customize both tasks and groups. To remove a task, simply drag & drop it in Trash. All completed tasks can be seen inside the Completed group.
To add a new group, right-click on the left sidebar and select Add Group. A new window will pop-up where you can select any pre-illustrated icon and give the group a name.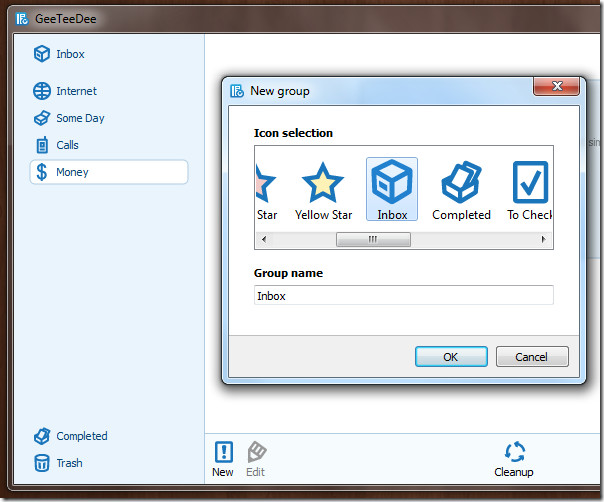 It also offers Compact View to keep you focused on current tasks. The Cleanup button at the bottom of the interface allows you to clean all completed tasks.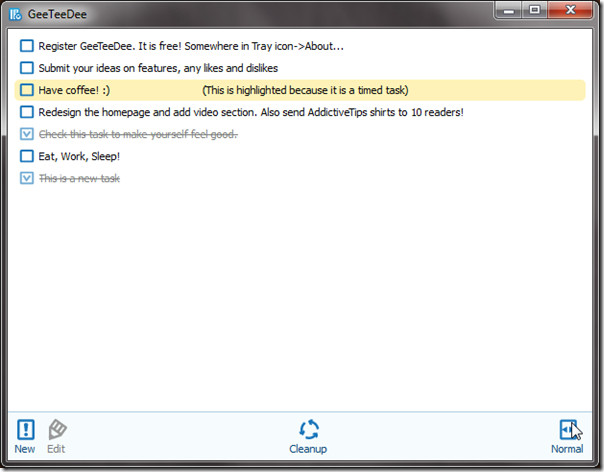 This application is the first build released to the public. We won't throw our verdict just yet since there is still a long way to go in the development of this software, for e.g, there is no feature to manage sub-tasks. The developer plans to add many more features (also open for suggestions), will release a version for Mac OS X soon, and has apps for Mobile Devices in the pipeline. Our testing was done on Windows 7 32-bit system.