Google Sites Backup: Import/Export
Google Sites is a service from Google that lets user host a website on Google's server. But there is one problem, there is no build-in option to backup the site.
If you are looking to export your website to your local computer, then Google Sites Liberation will help. It is a nifty little utility developed on Java that lets Google Sites users export their data and also import(restore) them back.
Just select the domain name, enter the webspace, check if you want Import/Export revisions, type the login credentials and finally select the directory where you want the backup to be stored. Now hit Export to backup the Google Sites data, and hit Import to restore back the data.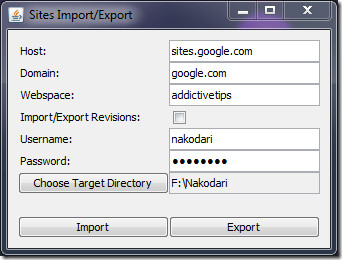 So what does it do exactly? According to the developers, it generates a XHTML version of Sites content suitable for offline browsing and simple HTTP hosting, which is also able to be losslessly imported back into sites.
Just because you can import the data back doesn't mean that you can upload other content as well. It is not a FTP tool, you can only import back the data that you have exported.
Download Google Sites Liberation
It is a cross-platform tool and works flawlessly on Windows, Linux, and Mac. Enjoy!