Hamster Zip Archiver Is Faster And More Friendly Alternative To 7-Zip
7-zip, despite being the best archiving utility available out there, lacks some UI specific aspects which would have made it a lot better. Since many beginners find it a quite difficult to go around with 7-zip, it would be a good idea to try out an application which covers both facets – fast archive creation and extraction and drop-dead UI.
Hamster Zip Archive is one such freshly developed archiving utility which, while having a neat and simple UI, offers almost all the features of 7-zip. What seems great about this application is, firstly, visually appealing user interface, and secondly, extremely simple usage. It claims to utilize full CPU resources while creating archives, so set of hefty files can be packed-up in a few minutes. As Windows shell integration is apparently important for every archiving utility, it not only integrates with Windows right-click context menu but offers uploading limit presets for splitting a set of files to send them via email (5MB), uploading them to Windows Live Skydrive (50MB), RapidShare (100), and for burning set of files to CD (650MB) and DVD(4.7 GB). The splitting feature is most significant from all the other included features, as it can quickly create a set of archives for uploading them to specified services while considering the upload limit, so you wont have to face any problems while uploading them to any of supported services.
The main interface does not have too many options to confuse you. All that is required is to drag and drop the files which are to be archived. Before you start creating an archive, choose the archive format – ZIP or 7zip, and compression level.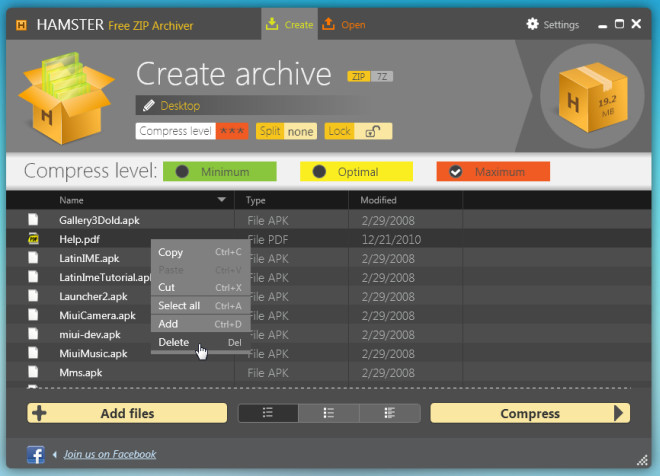 Alongside Create Archive window, Open Archive tab can be used to view and extract archive content. The usage is same. Just drop archive(s) to view and extract the content.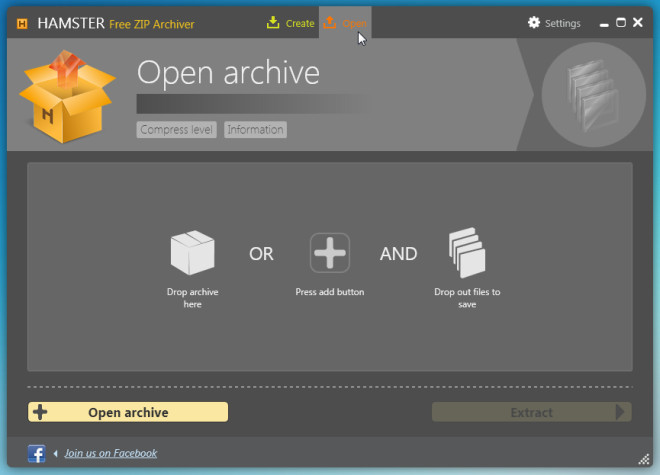 The Split archive menu in right-click context menu lets you choose the service for splitting selected file set into multiple archives, so you can upload them without encountering any upload limit related issues.

During archive creation process, you can see the files which are being processed with option to let it work in background (silent mode). You can also temporarily pause the process to complete some other important tasks, as it requires full CPU resources, so you wont be able to carry-on with your work while creating one big archive.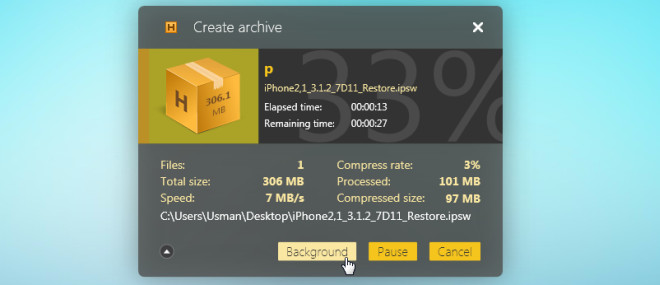 You can watch embedded video below which demonstrates the usage in detail.
Hamster Zip Archiver looks perfect for daily archive creation and extraction needs. It is fast, stable and looks awesome. We didn't experience any problems or lags while creating and extracting archives.