Hide Your Real IP Location & Browse Anonymously On Windows With SafeIP
The internet is a vast and growing community, but without the necessary measures, it can prove to be dangerous territory too, where instances of identity theft, child molestation, pornography, phishing scams and hacking occur on a frequent basis. As adults, it is our duty to keep our children as well as ourselves safe from any such malicious cyber activates. One way is stop using the internet, which isn't an appropriate measure since the medium brings with it loads advantages and benefits for us, and has become an integral part of our professional, educational and social lives. Another way is to use apps like SafeIP to protect your internet identity. The application lets you hide your real IP address and browse the web anonymously. Users can choose the fake IP location according to their liking, and switch between original and fake IP address on the fly.
Although, there are plenty of other VPN services out there like SpotFlux and TunnelBear that do pretty much the exact same job, what makes SafeIP stand out is its ability to let you select IP addresses from several different locations including USA, UK, France, Canada, Hong Kong, Austria, Poland, Italy, Germany and Netherlands.
The interface of SafeIP provides a list of all these IP locations on the left, and gives you an overview of its various protection features that can be turned on in the right pane. The app offers a lot of flexibility and control over the available protection settings. IP Protection is enabled by default, but you can toggle additional parameters like protection against malware websites, ad websites, cookie protection, referrer protection, browser ID protection, WiFi protection and DNS privacy.
To enable anonymous web browsing, all you have to do is select your desired city and click Connect from the top-right. Want to switch to another IP address without switching back to your original one first? Simply hit Change IP and SafeIP will do the rest. There are IP addresses available from multiple cities from the US and UK, while entries for the rest of the countries only contain one location each.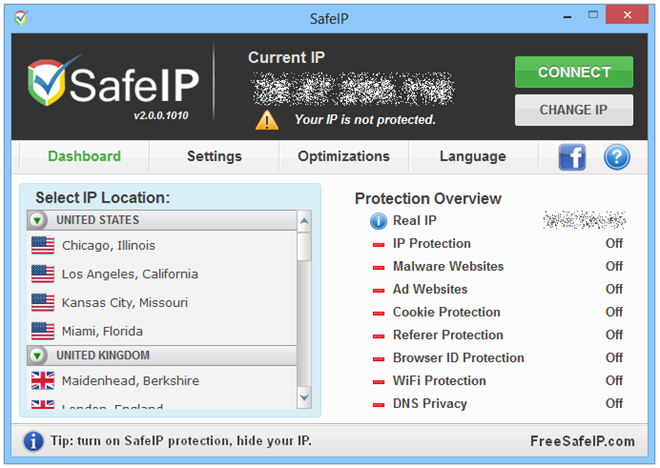 To turn on additional protection features, you will need to head over to the Settings section. Noted that Wifi Protection is only available in the Pro variant of the app. Other miscellaneous settings include running the app on windows startup, rotating your IP address automatically, showing balloon tips, setting DNS privacy and enabling traffic encryption. SafeIP also allows you optimize your internet connection for certain content under the Optimizations tab. You choose among anonymous web browsing, fast content streaming, mass or bulk mailing, and download and torrents, with the last group only available in the Pro version.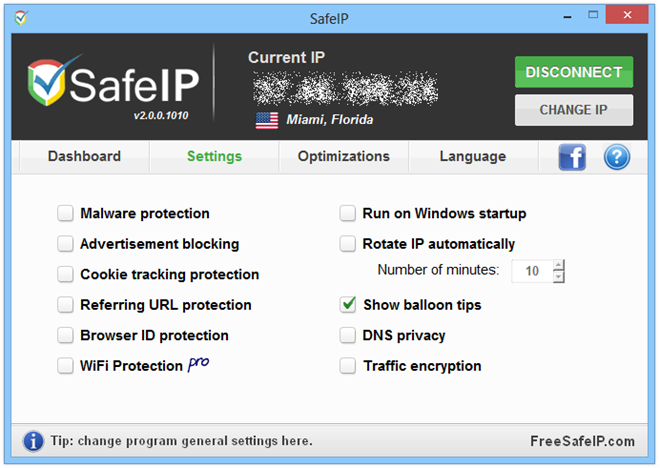 SafeIP is available as Free and Pro ($29.95) versions, the latter of which boasts some extra perks like speed boost, WiFi protection, and torrent privacy. The app works on both 32-bit and 64-bit versions of Windows XP, Vista, 7 and 8.