Hide Taskbar Tabs And Windows With Clicky Gone
Do you sometimes need to hide a window due to privacy or security reasons? Sometimes when you are in office sitting next to your co-workers you might need to hide windows that contain private information. Or when your taskbar is full of different application and browser tabs, you might need to hide some windows in order to reduce the clutter.
Clicky Gone is a free opensource tool that lets you hide explorer or browser windows running on the desktop and the tabs in the taskbar quickly using hotkeys. There are both installer and portable versions available, I would prefer the latter since it can be carried anywhere with ease.
Jut run the tool and it will load in the system tray. Now to hide all the windows press the default hotkey(F12+Ctrl+Alt) or right-click the system tray icon and select Hide All. To bring them all back press the Hotkey again or select Show All from the system tray menu. All hidden windows are listed in the System Tray menu, to bring any specific window back you can select it from there.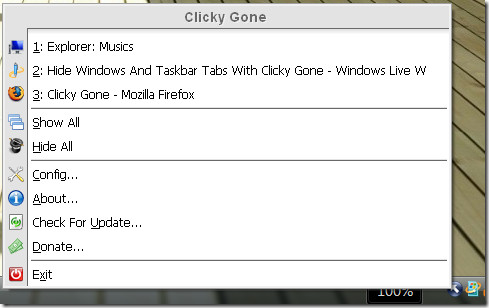 You can also hide any specific window by pressing the following hotkey Left-Click(Mouse)+Ctrl+Alt. To change the Preferences or Hotkey, select Configuration from the System tray menu.
Start tab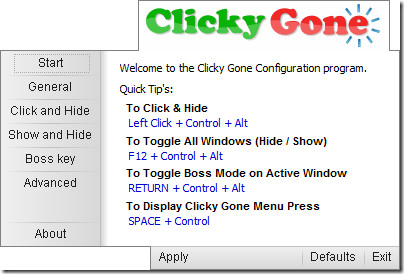 Click and Hide tab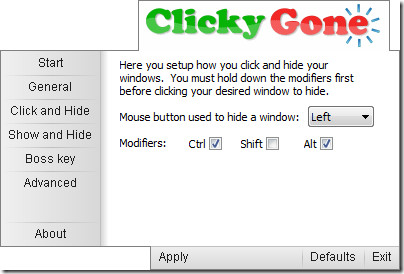 Advanced tab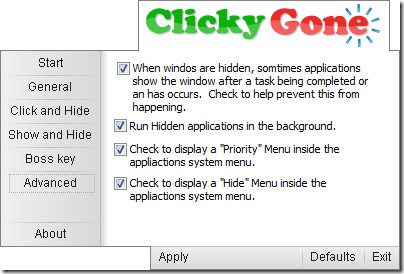 Two important features that you won't find in other tools are: Run hidden windows application's in the background(Low Priority) and Ability to mute the sound on hidden windows. You can also prevent it from hiding any window when running a game. Enjoy!