How to back up the Taskbar layout on Windows 10
Everyone has their taskbar set up differently. Whatever apps you have pinned to the taskbar, the order they're in, and the icons they use, are all stored in Windows 10. The information makes it so that the pinned items stay where they are and the OS doesn't forget them. If you're creating a new user on your PC, doing a fresh/clean install, or just setting up a new Windows 10 PC where you want the same taskbar arrangement, you can backup the taskbar layout that you have, and easily restore it on any system.
Before we get started, remember that the items can only be restored if the apps they're for are also installed on your system. If you're restoring a taskbar layout which includes Firefox pinned to a certain position on the taskbar but you do not have Firefox installed, the app won't automatically be added.
Back up Taskbar layout
In order to back up the taskbar layout, you need to backup a key in the Windows registry. Backing up keys doesn't require admin rights however, restoring them does.
Open the Registry editor and navigate to the following key.
Computer\HKEY_CURRENT_USER\Software\Microsoft\Windows\CurrentVersion\Explorer\Taskband
Right-click the Taskband key and from the context menu select 'Export'. Save the key with the name Taskband and the taskbar layout will be backed up.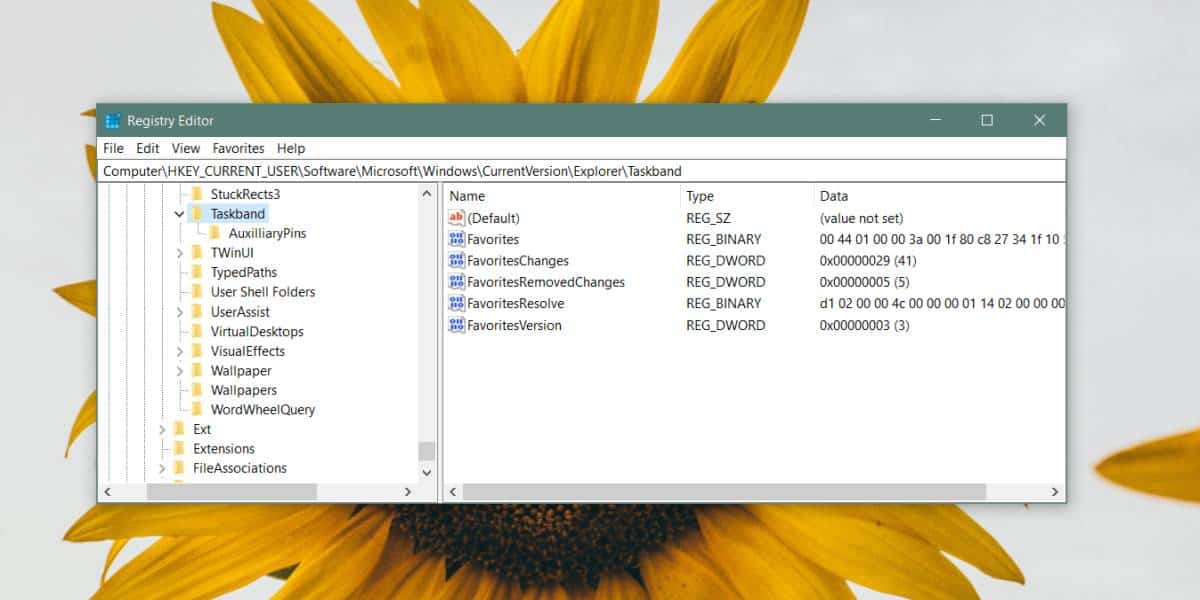 To restore the taskbar layout, right-click the registry key that you backed up, and select the Merge option. Once the key is merged with your registry, all the items on the taskbar will reappear where you originally pinned them. If they don't, restart Explorer and that will do the trick.
We should also mention here that a lot of people advise backing up the contents of the folder below in order to back up the taskbar layout. This folder contains all the items that are pinned to the taskbar however, it does a very poor job of backing up the layout and restoring it. Not all items are restored (depending on their nature), and their order is not preserved either.
%AppData%\Microsoft\Internet Explorer\Quick Launch\User Pinned\TaskBar
The registry is the only reliable way to back up the taskbar layout. If you've given items on the taskbar custom names e.g., you've pinned Chrome to the taskbar but renamed the shortcut to Browser, you must have shortcut  of that  same name on your desktop in order for it to be pinned to the taskbar again after merging the registry key. The layout relies on a lot of things being set up the same way they were when you backed it up.
Check out how you can back up the Start Menu layout on Windows 10.