How To Add 'Search Google' To The Right-Click Context Menu In Microsoft Edge
Leading desktop web browsers have an option in the right-click context menu for quickly sending a search term to your default search engine. Because Google is the preferred search engine for just about everyone, this option is commonly known as the 'Search Google' option in the context menu though it can work for just about any search engine. Microsoft Edge doesn't have this option just yet. You can change the default search engine in Microsoft Edge to whatever you prefer but this option isn't going to show up, not even for Bing. If like most of the world your preferred search engine is Google, you can add the 'Search Google' option to the right-click context menu with the Google Context Menu Edge extension.
Google Context Menu Edge is available on Github. The extension isn't available in the Windows Store so you will need to enable extension developer features in Edge to install it.
The process is fairly simple; go to about:flags, and enable the extension developer features. Restart Edge.
Download Google Context Menu Edge and extract it. Open Edge and click the More button and go to Extensions. Click 'Load Extension' and select the folder the extension is in.
Once added, you can select text, and right-click it. The context menu will have a 'Search Google' option. Select it to search the selected text on Google.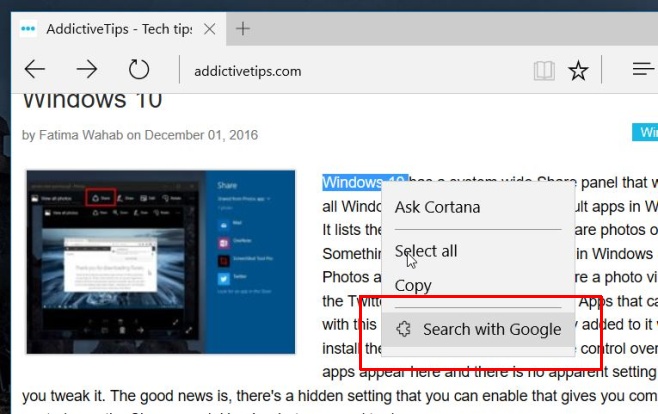 The extension has one limitation; if your selected text contains the & symbol, everything after it will be excluded from the search term. For example, if you select Ben & Jerry's and select 'Search with Google', only 'Ben' will be sent to the search engine.
Google Context Menu Edge is from an unverified developer so each time you open Edge, you will have to enable it again. The extension is only built for Google and you can't add a search engine of your choice to it. It's also in beta so you can expect a few bugs. For our part, it worked flawlessly.
Download Google Context Menu Edge