How To Install Extensions From Outside The Windows Store In Microsoft Edge
Microsoft Edge now supports extensions. You can download an extension for Edge from the Windows Store. Microsoft has added support for extensions only recently to Edge so there aren't a lot of them in the Windows Store. Quite a few are still in beta and developers prefer to make them available outside the Windows Store, possibly to avoid poor ratings. If you want to install an extension in Edge, it's a fairly simple process if you know what to do.
Open Microsoft Edge and in the URL bar, type about:flags and hit enter. In the very first section, look for the 'Enable extension developer features' option and check the box next to it to enable it.
You will need to restart Edge. There is no dedicated button for restarting Edge when you make a change to the Flags like there is in Chrome. You have to restart Edge manually by closing and opening the browser.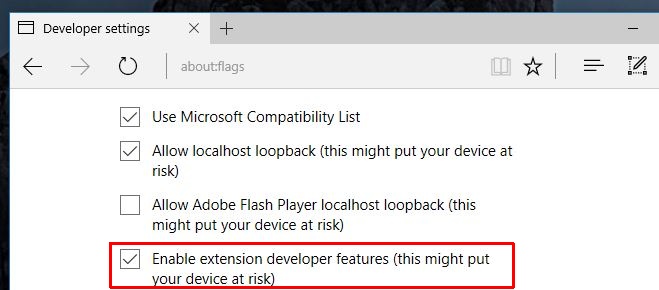 You can now install an extension from outside the Windows Store. Find an extension you want to try out and download it. If you download it as a zipped file, extract it before you proceed to the next step.
Open Edge and click the 'More' button at the top right. Go to Extensions and click the 'Load Extensions' button. Navigate to the extension folder you just extracted and/or downloaded. You have to select the folder the extension's files are in, and not a particular file. Select the folder and click the 'Select folder' button in the Open file dialog.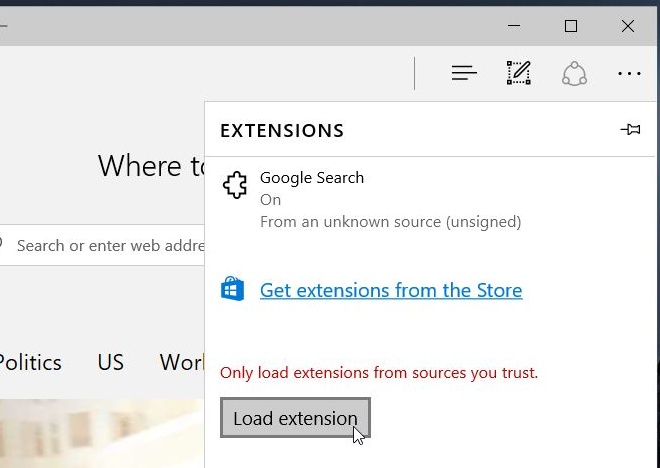 The extension will be loaded and it will appear in the Extensions panel. You may or may not have to turn it On.
Extensions downloaded from outside the Windows Store can still be verified extensions. A verified extension is an extension that has digitally been signed by a verified developer. An unverified extension can be installed the same way, however, each time you launch Edge, it will disable the unverified extension. You will have to enable it.

A word of caution; extensions installed from outside the Windows Store can be dangerous. Be careful which extensions you choose to install.