How To Add Or Remove Apps From The Share Panel In Windows 10
Windows 10 has a system wide Share panel that works with all Windows Store apps, and the default apps in Windows 10. It lists the apps that you can use to share photos or files with. Something almost identical is present in Windows 8/8.1. The Photos app, for example, lets you share a photo via email or the Twitter app if you have it installed. Apps that can work with this share panel are automatically added to it when you install them. As a user, you don't have control over which apps appear here and there is no apparent setting that lets you tweak it. The good news is, there's a hidden setting that you can enable that gives you complete control over the Share panel. Here's what you need to do.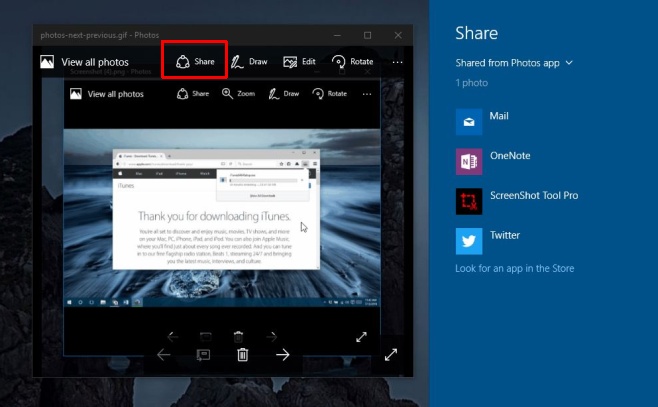 This trick involves making a slight change to the Windows registry and you will need administrative rights to do so. It will enable a 'Share' tab inside the Settings app under the System group of settings. The tab will only appear if you are logged into the administrator account.
To enable it, open the Windows registry. Go to HKEY_CURRENT_USER\Control Panel and create a new DWORD (32-bit) entry From Edit>New. Name it "EnableShareSettings' and set its value to "1".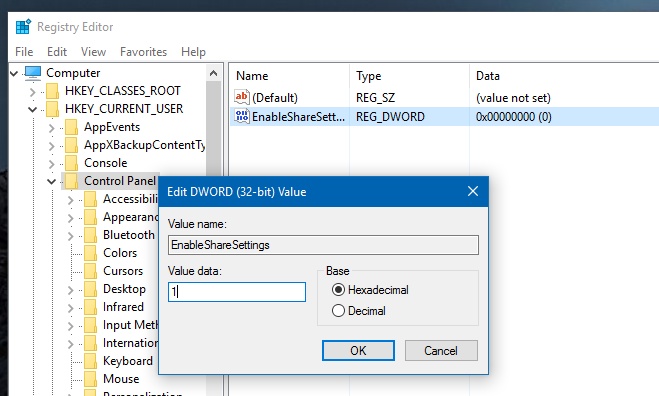 Restart your system. Login to the administrator account and open the Settings app. Go to the System group of settings and scroll to the very bottom of the left column. You will see a new 'Share' tab. Click it. Inside you can customize which apps appear in the share panel.
You can also limit the number of apps that appear in the list, and show/hide the list of frequently used apps. The changes you make here, i.e., from the administrator account, effect other user accounts as well.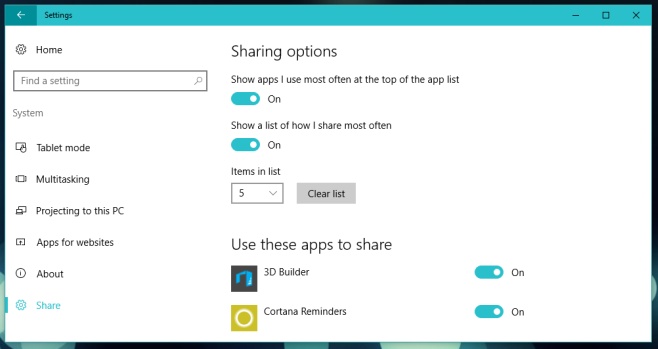 It goes without saying that there should be an easier way to do this. The settings in this new panel aren't ones that should be hidden from a user and they certainly aren't the sort that could result in system failure if changed. Perhaps the panel will be visible by default in a future update.