How To Connect Any Bluetooth Device With Windows 10
We've been exploring Windows 10 for quite a while and one thing we've come away with is that Windows has two types of settings; the new Settings app and the old familiar Control Panel. The Control panel is obviously the more powerful of the two and it's meant to give you access to far more advanced settings that an average user might not need, or might access very rarely. One of the many things featured in the simplified Settings app is the ability to connect a Bluetooth device. Here's how you can do that from the Settings app.
First and foremost, make sure Bluetooth is turned on. Open the Settings app and go to the Devices group of settings. Click the Bluetooth tab and turn Bluetooth on. If you do not see this option, or it's disabled, it might be because Bluetooth is turned Off in your system's BIOS. You will need to turn it on there for the option to become functional. Once Bluetooth is on, you will see all available devices that you can connect over Bluetooth.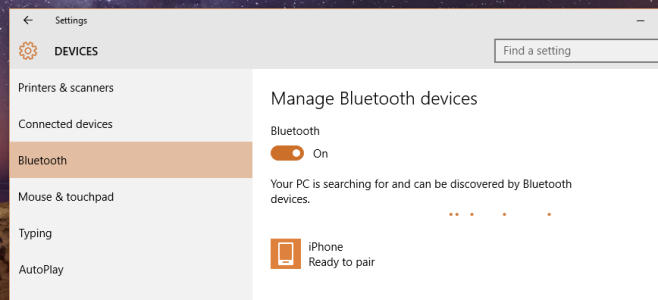 Click a device and click the 'Pair' button next to it.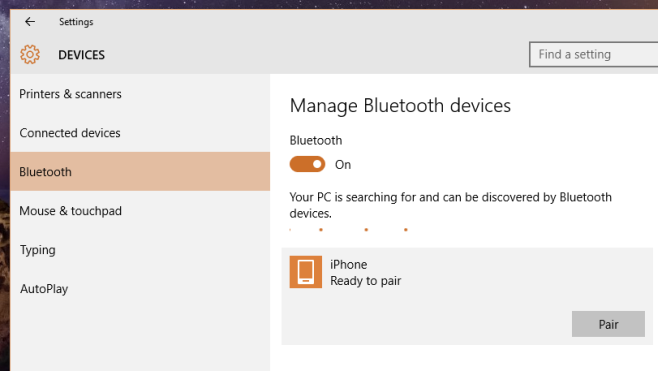 Depending on the device you're connecting with, an authentication prompt will appear on your screen. It might prompt you to confirm the connection on the device you're trying to connect with or just on your screen.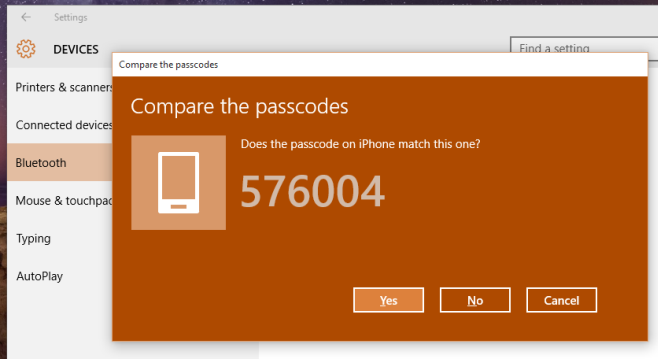 Once you've confirmed that you want to connect the device, it will appear in the list of connected devices. Any time the device is in range again, it will connect automatically. If you want to remove the device, click it in the list and click the 'Remove device' option.