How To Convert PNG/JPG/BMP Image Formats Into Windows Icon (ICO)
If you are looking for a way to convert multiple image formats like jpg, png, bmp into Windows Icon, look no further than ImagIcon. It is an excellent little utility that lets you convert multiple image formats into jpg, bmp, png, ico formats. Users can save the photo in 16×16, 32×32, 64×64, 128,128 dimension icons.
There are different uses of such icons, you can replace your boring folder icons and add some great custom icons. You can use the 16×16 or 32×32 dimension icons as favicons for your blog or website. Check this blog's favicon in the screenshot below.

You can also keep the converted windows icons as gravatar(photos displayed next to comments) if you comment frequently in blogs.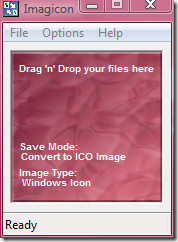 You can change the Icon's settings, Image transformation setting, Save mode settings, etc by going to Options. Once you have chosen the desired settings, simply drag and drop the image to convert it into icon, the icon will automatically be saved in the same directory where your original photo resides. For faster conversion you can drag multiple images at once.
Go to Options and click Save Mode, here you can select the out image format, you can either choose jpg, bmp, png, or ico. You can also add transparency by going to Icon Settings. Experiment with this software for a few minutes and you will find bunch of great features.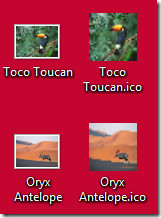 That's all. It is such a useful tool that can come handy anytime. Enjoy!