How To Get New Artwork For Your Desktop Wallpaper Daily
How often do you change your desktop wallpaper? Do you set a new wallpaper routinely or just change it when you find a really cool HD image? Finding new wallpapers isn't easy, especially if you need HD images. Windows 10 users have Windows Spotlight to turn to and macOS has some really great HD wallpapers by default. Both Windows Spotlight and the default macOS wallpapers are mostly photographs. If your tastes lean more towards the artistic side, Artpip is an app you should try out. It finds artwork and sets it as your wallpaper. You can choose how often the app will get new artwork for your desktop wallpaper. You can also exclude certain mediums e.g. sketches from being set as the wallpaper.
Run Artpip and it will get new artwork for your desktop wallpaper right away. You won't have to change the wallpaper manually; Artpip takes care of that. If you don't like the image, simply click the refresh button and get a new one.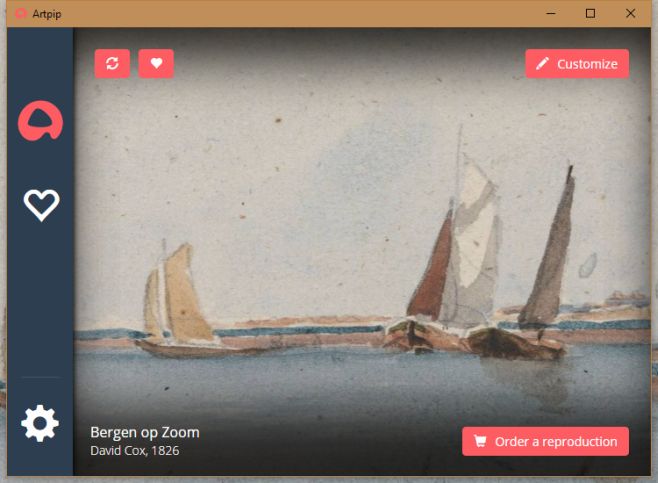 To exclude certain types of medium, click the customize button at the top right. You can select how often the app will get new artwork for your desktop wallpaper, what century the artwork should be from, and which mediums to exclude. You can exclude oil paintings, watercolor, sketches, and prints.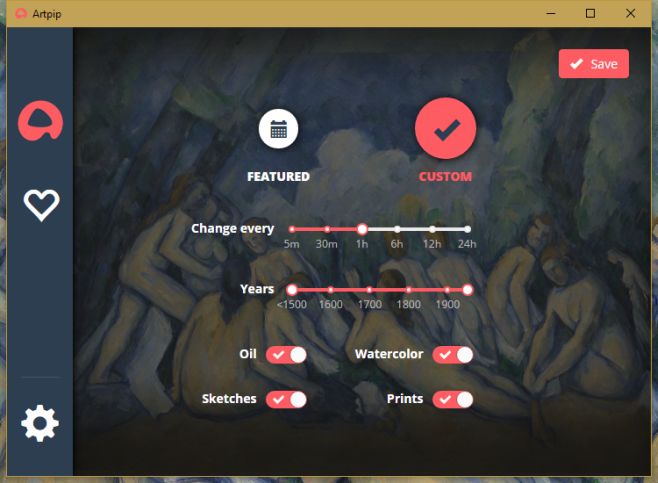 Artpip shows you a desktop alert whenever it changes the wallpaper. You can turn the alert off from the app's settings. The app can be minimized to the system tray. You can change the artwork from the system tray icon by right-clicking it and selecting 'Next Artwork'.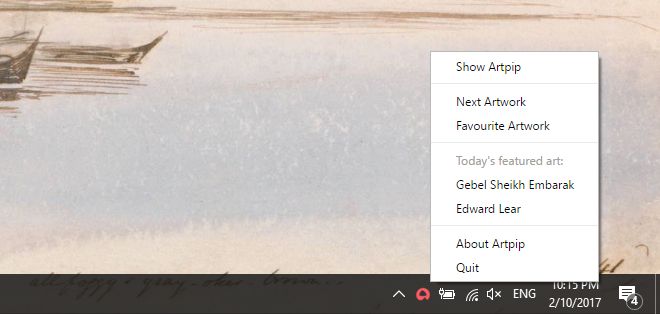 If you really like the artwork featured by Artpip, you can order a print via the app. The images aren't HD and if you have a monitor with an unusually high resolution or perhaps one that support 4K resolution, you might not like Artpip. We tested the app out on a Windows laptop that had average resolution. Macbook users usually have better resolution screen so images may or may not look good; we can't say. Artpip is free to use so you can always give it a test run and see how the images look.