How To Import Notes & Notebooks From Evernote To OneNote
The price tag on Evernote Plus and Premium plans has just gone up. Evernote is one of the most popular note taking apps available today and it's been around for quite a while now with a considerably large user base. Not only has the service just raised the price on its paid plans, it's also restricted the number of devices that can be shared on a single account on the free plan. If you're looking to jump ship to a different, more affordable service like OneNote your primary concern will be retaining all your current notes and making sure you don't have to organize them all over again. Fortunately, Microsoft has a simple tool that lets you do all this. The Evernote to OneNote import tool was released in March of this year and is still in Beta but it works like a charm.
To import your notes and notebooks from Evernote to OneNote, you will need to have Evernote installed on your desktop. Download the Evernote to OneNote import tool and run it. It will ask you to accept an EULA, and then look for Evernote's files on your system. You can choose to let the tool look for them or if you've exported your data from the Evernote app itself you can select the file by clicking 'Import a file instead'. If you're importing a file, you won't need the Evernote app installed on your system.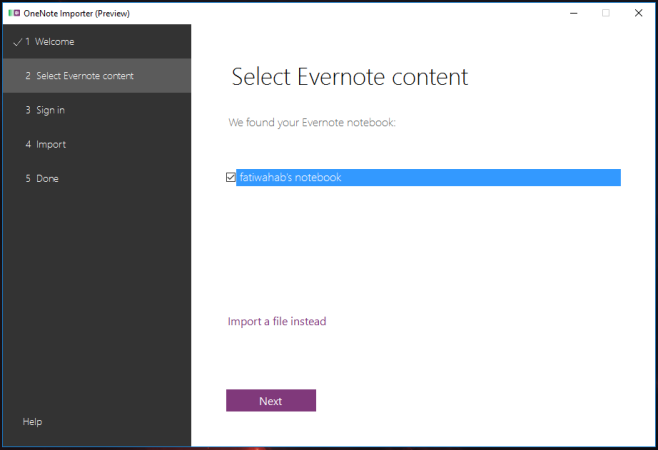 The tool will ask you to sign into the Microsoft account you use with OneNote. You will have the option to retain the tags you applied to your notes and notebooks or to shed them when the data is imported.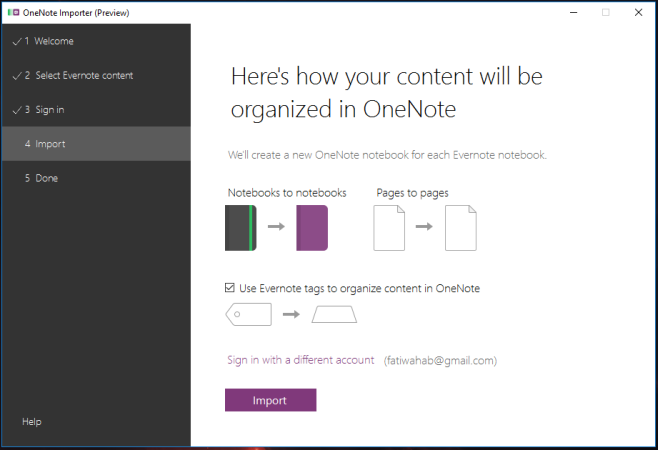 Import takes a while depending on how many notes you have and whether or not they include pictures. Once the data has been imported, it will be synced to OneNote. If you have the OneNote app installed on your system you might see them sooner than you would on the web app.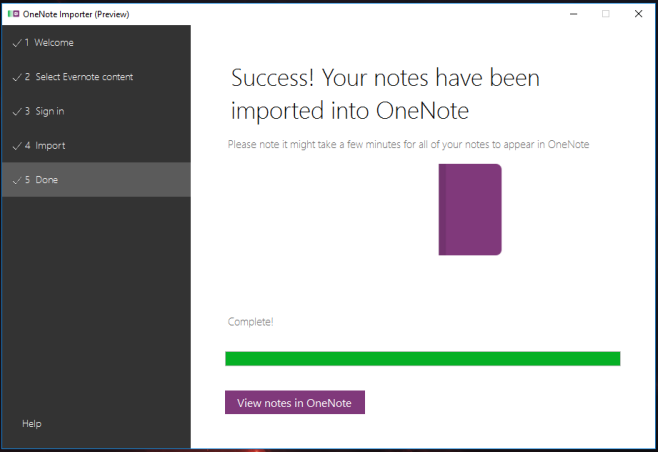 OneNote is built into Windows 10 and will likely be the go-to note taking app and service for any Evernote user who wants to jump ship after the price hike.
Download Evernote to OneNote Import Tool