How To Load External Subtitles When Playing A Movie On Chromecast
VLC player has yet to add support for Chromecast. VLC player can play just about any sort of file and it has some great features that are otherwise lacking in the default media players that come with our operating systems. People use it over their default players simply because it is so amazing and the lack of support for the Chromecast is a problem. One awesome VLC feature is the ability to load external subtitles. Windows Media Player simply won't let you do this and with VLC not yet supporting Chromecast, we don't have that many options in terms of media players that will do this for us. That doesn't mean we have no options though. Here are two ways to stream a video/movie to the Chromecast and load external subtitles from your Mac or PC.
AirFlow – Desktop App
AirFlow is a free desktop app available for both OS X and Windows that supports lots of different video formats and also lets you load subtitles from an external file on your system. Simply install the app and drag & drop the file you want to play on to the app. Click the Cast button at the top to connect to your Chromecast device.

Once the file has been added, open the 'Subtitles' dropdown under the video's preview. Select 'Load External' and browse to and select the subtitles file. The subtitles will now be shown on your TV/monitor. You can customize the color and size of the subtitles.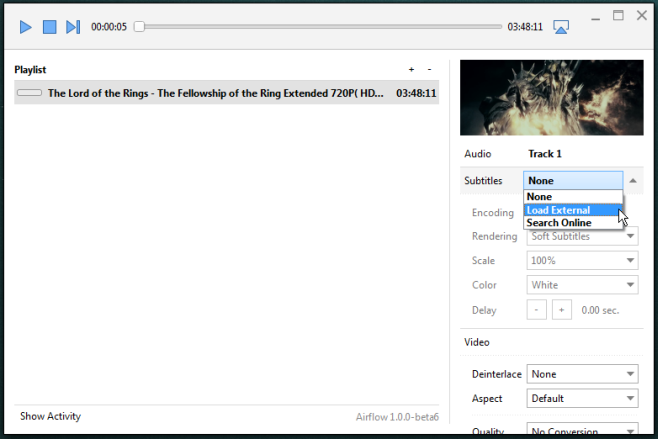 Videostream – Chrome App
The Videostream Chrome App is one of the most popular Chrome apps for casting to Chromecast. Open your video in the Videostream app and click the 'Language settings' button next to the seekbar.
Inside the Language settings pop-up, click the 'Add External Subtitle File' button and search for, and select the subtitles file. Close language settings and enjoy your movie complete with subtitles. You must have the official Chromecast extension installed in Chrome.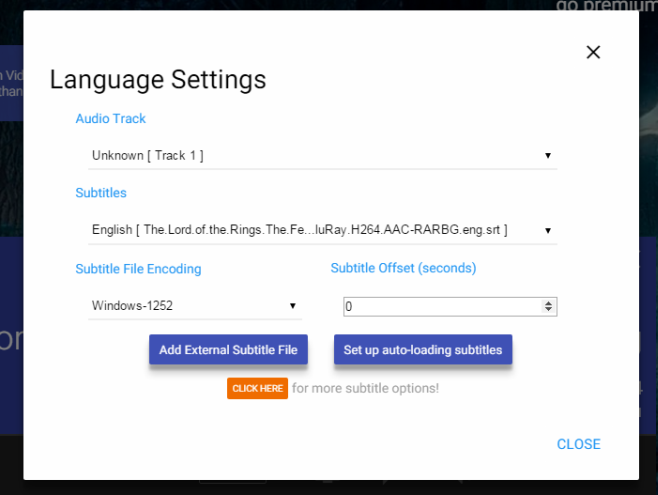 Install Videostream From The Chrome Web Store