How To Prevent Chromecast From Being Hijacked On A Shared Network
Chromecast is a budget-friendly device that makes an ordinary TV or monitor far more useful. Because it is budget friendly, you will often find it in use in dorms and hotels where the WiFi is shared. The thing about a Chromecast is that when it's connected to a shared network, everyone on that network can cast to it. If you're in college and have your Chromecast connected to the dorm's WiFi, anyone else connected to it can easily hijack it and cast content of their choice. To prevent Chromecast from being hijacked on a shared network, you have to create a private network, turn it into a hotspot, and connect your Chromecast to it. It may sound complicated and if you Google the process you might think you need to buy an extra router. There's an easier way.
There are apps available that allow you to create a private network within your existing WiFi network. Some cost money, others are free. The one we recommend has a lite version that you can use to create a private network and turn it into a hotspot. It's called Connectify.
Download and install Connectify on your system. If you choose to use the lite version, you will not be able to specify a custom name for the network you create. That is hardly a problem. Follow the instructions to create your own network. Click 'Start hotspot' on the Settings tab to start it. This will take a few seconds.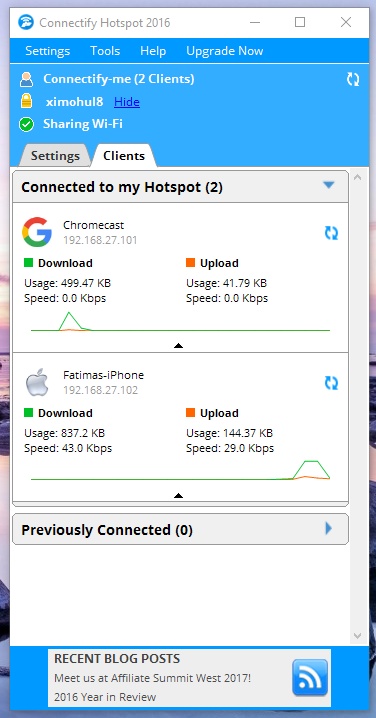 Next, connect the Chromecast to this new network that you just created. The best thing to do, instead of changing the network, is to set Chromecast up again with the new network you've created. Now connect the device that you want to cast from, in my case it was an iPhone, to the same network and start casting.
The Chromecast is now on a private network within the public/shared network of the dorm or hotel you are using it in. This will prevent Chromecast from being hijacked on a shared network because now it is no longer visible as a casting device to others on the device.  It is still using the same connection i.e. the shared/public network available to you so you still get the same speed.