How To Remove Suggested Apps From The Share Menu In Windows 10
Windows 10, like Windows 8, has contextual sharing. If you select files in File Explorer, a share tab appears on the ribbon. It lets you share files via supported apps. The apps that support contextual sharing appear in the share menu. Users can't add or remove apps from the share menu. The apps appear automatically when you install them. Over time, Windows 10 picks up on which app you prefer to share with and puts it at the top of the list.
Come April 2017, Microsoft is adding suggested apps to the share menu in the Creator's Update. These apps are apps that you have not installed on your device but Microsoft thinks you probably should. Needless to say, it is unnecessary clutter. Here's how you can remove suggested apps from the share menu in Windows 10.
Remove Suggested Apps (Share Menu): Guide
Suggested apps will appear for users on the stable release channel after the Creator's Update is rolled out. For now, this 'feature' is only visible to users on the insider builds.
To remove suggested apps from the Share menu in Windows 10, open File Explorer. Select a file and go to the 'Share' menu on the ribbon. Click the blue share icon on the left of the 'Share' tab.
The first few apps you see will be apps that you have installed on your system. Suggested apps are the apps with the 'Install' message under them. You have not installed these apps on your system. If you select a suggested app, i.e., click on it, the Windows Store app will open to the app's product page.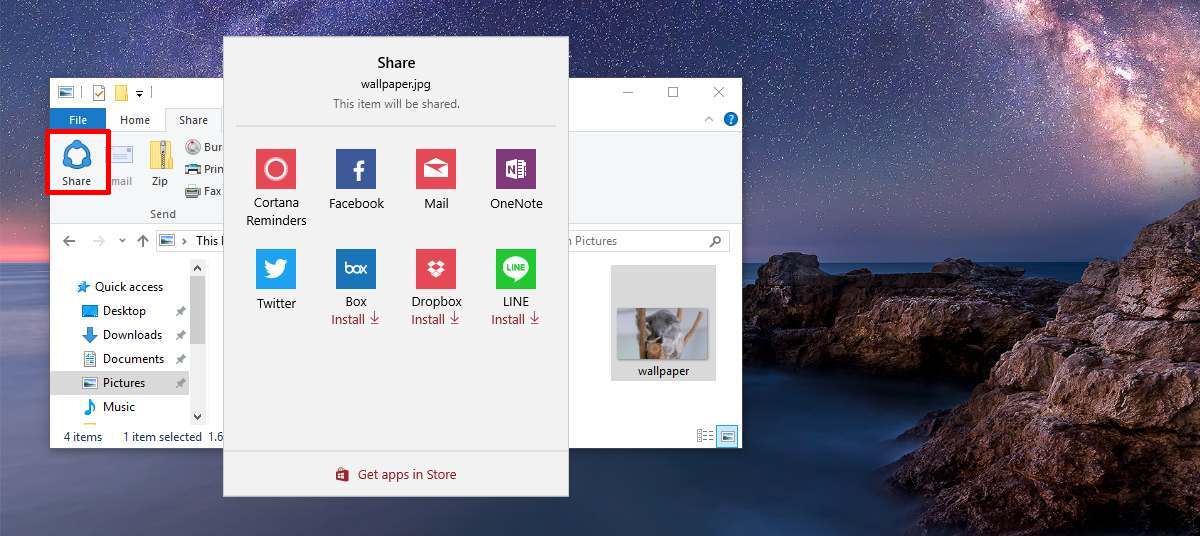 To remove suggested apps from the share menu, right-click any one of the apps. The context menu will have one option; Show app suggestions. It will be enabled by default. Click it to disable the option. Disabling this option will remove suggested apps from the share menu.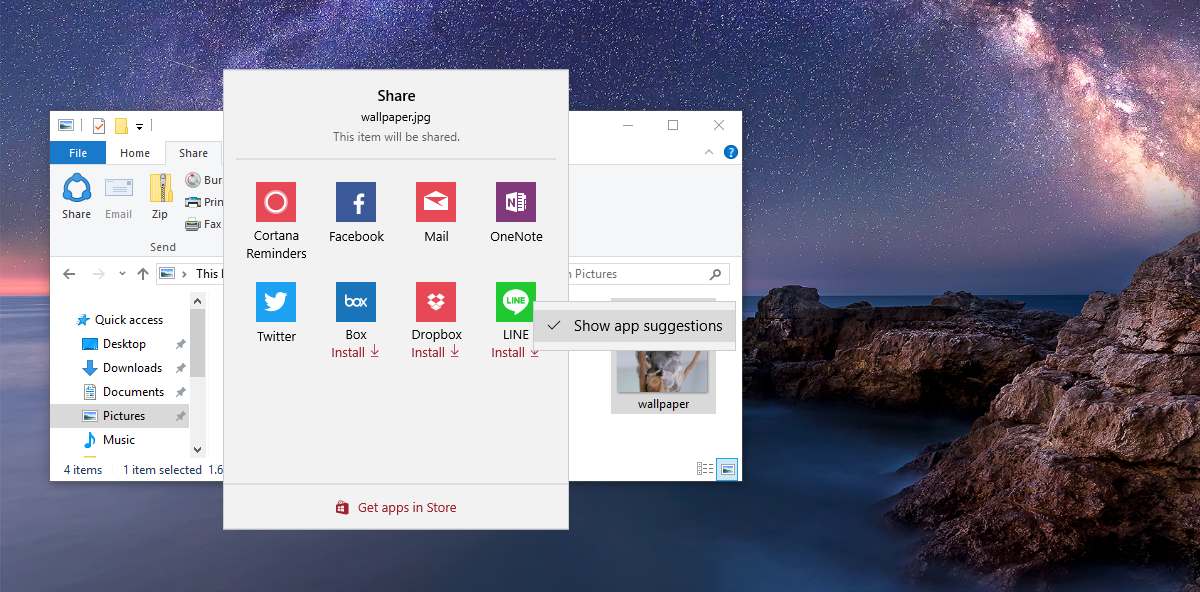 Microsoft is still pushing apps on to users. The Start Menu already has one too many suggested app tiles. Windows 10 comes bundled with unnecessary apps such as Candy Crush. This new addition to the Share menu is a step down. The Windows 10 share menu itself is a great feature. Adding clutter to it however, isn't the greatest idea. The execution of the suggested app feature is bad; there isn't any visual divider that separates user installed apps from suggested ones.
There is room for improvement but suggested apps isn't making things better. Microsoft should instead think about giving users a little more control over this menu. Granted, users can't add apps to the share menu unless the app supports the Share feature. Users should still be allowed to choose what order apps appear in.