How To Repair/Recover Corrupt Microsoft Word And Excel Files
Your Microsoft Office Word 2007/2010 documents or Excel 2007/2010 spreadsheets could get corrupted due to various reasons, two of the most common being data transfer error and hard disk crash. Once your documents get corrupted, it becomes quite difficult to recover them. Try opening a corrupt Microsoft document and you will receive an error that data is corrupt, which does not help us in any way. There are two ways to recover Word and Excel files, the first method is to buy an expensive recovery suite(which I would not recommend), and the second method, is below.
To recover Word 2007 documents we will use Damaged docx2txt.
To recover Excel 2007 spreadsheets we will use Corrupt xlsx2csv.
Both tools have been developed by S2 Services and are FREE. We will discuss both of them in details below.
Damaged docx2txt
This tool recovers the Word 2007 document by extracting text from it. Just run it, select File > Open and select your corrupt document. The extracted text would be visible in the main window, to save this text, go to File > Save and then give it any name. It saves all recovered text in .txt format.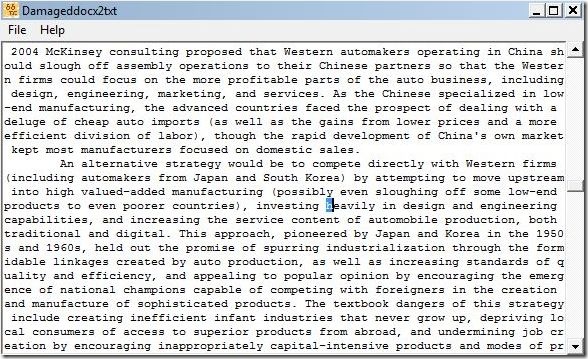 Corrupt xlsx2csv
This tool recovers Excel 2007 spreadsheets by using a command line unzipping program. It has an easy-to-use GUI, just like Docx2txt. All you have to do is click Step 1, select your Excel 2007 file and click Open. The recovered rows and tables will be displayed on the main window. To save all recovered Excel files in .csv format, click Step 2.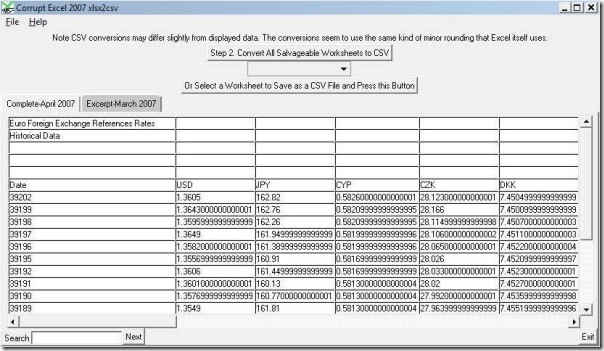 To check if you important data has been recovered, you can use the build-in search feature.
Conclusion
Both are portable tools and require at least .NET framework 2.0 to run. These tools can only recover Microsoft Word 2007 and Excel 2007 files. If you have an older version of Office, i.e 2003, then it won't work.
Download – [S2 Services Data Recovery Tools]
Enjoy!