Text Editing Assistant Helps In Writing/Editing Any Text Document
Do you want to find a percentage change between two values without having to calculate it yourself? Do you want to find the ASCII code and HTML code of every character and/or symbol? Do you want to use a scientific calculator? Do you want to convert any numerical number into words? Do you want to join any two text files? And the list of questions keep going up, but I will stop here.
To solve five different problems, you will have to search and download five different tools. Obviously you can find converters, text joining tools, and many other useful tools, but, wouldn't it be great if all the problems could be solved from within a single tool without having to download multiple tools and thus preventing the clutter of your desktop?
Text Editing Assistant(Direct Download Link) is a free software for Windows that contains a set of various tools that will assist you in your writing and also make text editing more easy. Whether you are writing/editing a report, a document, or a research paper, this tool will certainly come handy.
When you run this software, it will show a list of all tools. Select the one from the list that you want to work with and it will load up instantly.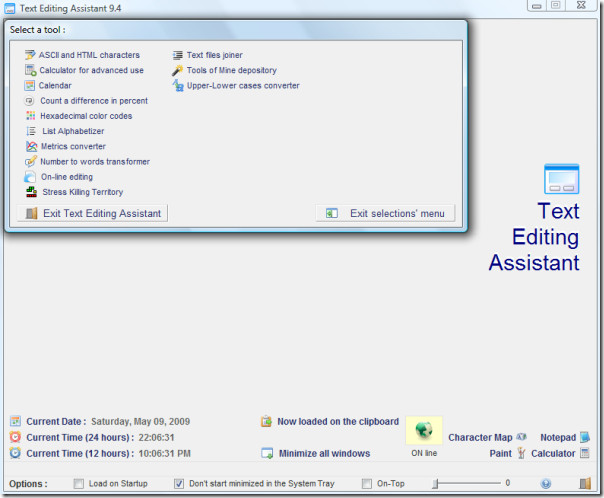 The complete set of tools include:
ASCII and HTML characters
Calculator for advanced use
Calendar
Count a difference in percent
Hexadecimal color codes
List Alphabetizer
Metrics Converter
Numbers to words transformer
Online editing
Stress killing territory
Text files joiner
Tools of mine depository
Upper-lower cases converter
Below I have reviewed three different tools so that you can get a better idea of what this software is about.
Ascii and Html characters
Select any English/Latin characters, Assorted symbols, Mathematical symbols and number, or financial symbols, and you will instantly get it's ASCII and HTML codes.
Calculator for advanced Use
A simple calculator with many advanced and scientific options.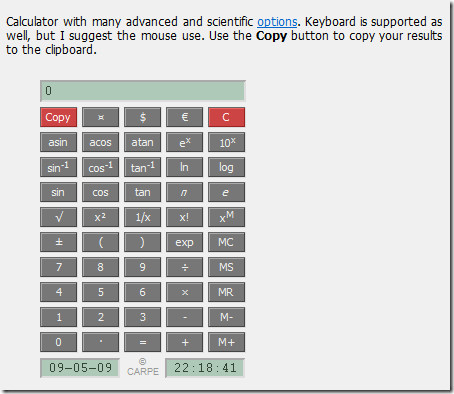 Calendar
How many times do you start counting the number of days left to any date? With this tool, you don't need to count anymore.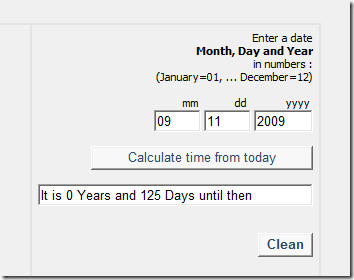 Don't get it wrong, these tools are not separate files, instead they are all embedded into one software. When you click any tool from the list, it will instantly open inside the main software. It works on Windows XP/Vista/7. Enjoy!