How To Set Up Plex To Cast Movies & TV Shows Over Chromecast [Guide]
Plex is an app that is exceptionally popular for streaming movies and TV shows. It's become a must-have app for anyone with a Chromecast. The app plays media in exceptional quality and you can add your media library to it making it super easy to access and play. It supports a large number of media formats and is built to recognize episode and seasons of TV shows. The only tricky part is setting it up. If you've been wanting to try Plex out on your computer but aren't quite clear on how to get it to read your library, here's a quick guide to help you do just that and start casting to your TV.
This guide assumes three things;
You have a Chromecast device that's been properly set up
You have Chrome installed on your computer and the Chromecast extension has been installed on it
The media you want to play and create a library for is on your local system
Step 1: Install Plex. You can download it from the link at the end of the post. Installation is very simple and you can breeze through it since the app doesn't attempt to install anything extra. Once set-up finishes, allow it to launch the app.
Step 2: Create a Plex account. When you launch the app, it will open a new tab in your browser asking you to sign in or sign up for an account. Once you've signed up (the account is free), you will be asked to name your library.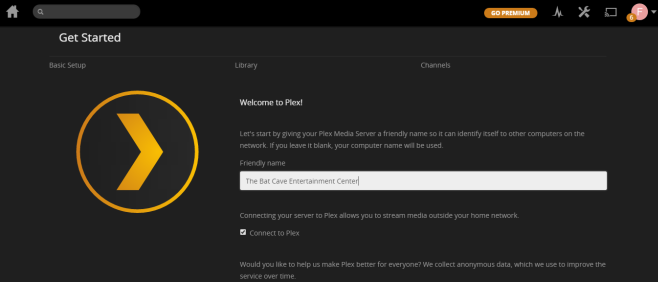 Step 3: Organize your media. Plex relies on a syntax and directory structure to recognize movies and TV shows. It will recognize media  provided you've labelled the files correctly and sorted them to the right directories. Choose which drive you want to collect your media in and create a new folder there called 'Media'. Inside, create two more folders, one called 'Movies' and the other called, 'TV Shows'. It's worth mentioning that you can also create a folder called 'Music' since Plex supports music playback as well.
Step 4: Rename media files according to the syntax that Plex has outlined. This is by far the most time consuming part of setting Plex up. Your files must be renamed so that Plex can read them. You can read the full syntax for various movie and TV shows here but we're going to give you a few examples anyway and clear up a few things.
You can put all your movies inside the 'Movies' folder you just created. You don't have to create a separate folder for the movie and then nest the media file inside it, however, doing so has it's advantages i.e. you can add the subtitle file for the movie inside the folder and Plex will be able to read it.
The structure will look like this;
Syntax: MovieName (release year).ext
Example: Media\Movies\The Lord of the Rings: The Fellowship of the Ring (2001)\The Lord of the Rings: The Fellowship of the Ring (2001).mkv
Syntax: TV Shows/ShowName/Season XX/ShowName – sXXeYY – Optional_Info.ext
Example: Media\TV Shows/The 100/Season 02/The 100 – s02e07.avi
Step 5: Add your Media folder to Plex. Click 'Add folders' in the Edit Library window and browse for the Media folder you just created and organized all your movies and TV shows into. Click 'Save Changes'. Return to your home dashboard and the media will appear after a while. Plex will need to scan it and depending on how big it is, it will take time. Once it's done, setting up Plex is complete.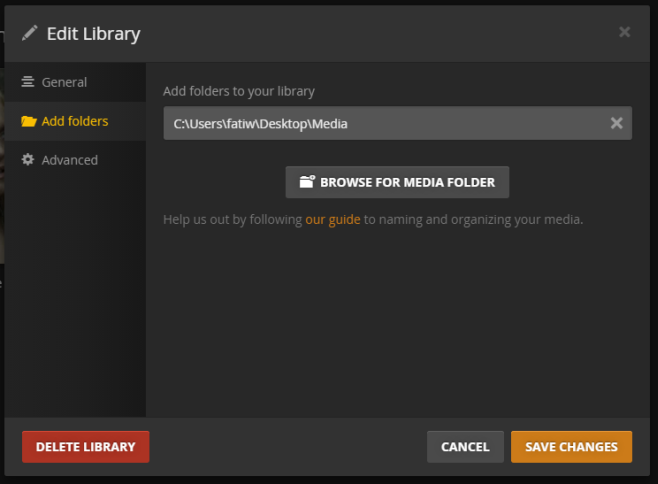 Step 6: Now that you've set Plex up with your media, you can play it over your Chromecast. Make sure the device is connected and that the Chromecast extension can 'see' it. In your Plex library, select a movie or TV show that you want to watch and play it. At the top right of the media player, you will see a cast button. Click it, select the Chromecast device from the extension to cast to, and the show will begin casting. You can manage playback position and volume from your browser.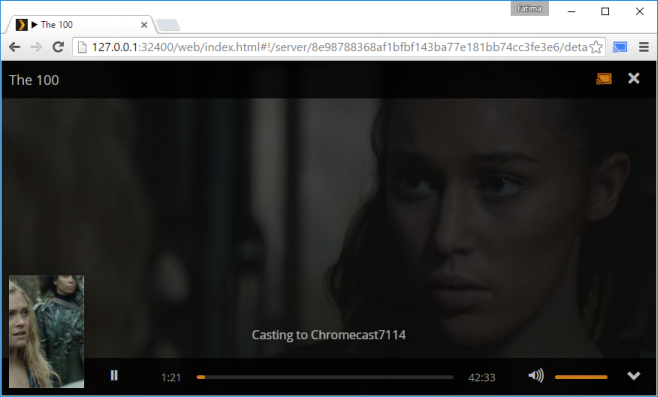 That's all it takes. If you repeatedly get an error saying it can't find your media, prompting you to sign in, close the browser. From the system tray, right-click the Plex icon and select the option to open/launch it. When it opens in the browser, sign in again and start playing your media.