How To Stop Your External Hard Disk From Going Into Sleep Mode
Some external hard disks automatically go into sleep mode after a few minutes of inactivity. This is definitely not the case with my latest Western Digital 3200ME external hard disk, but it does happen with majority of other external hard disks made by various manufacturers. Going automatically into sleep mode is a bit absurd, and to add further insult to the injury there is no build-in feature to prevent it either.
NoSleepHD is a free opensource and portable tool that writes an empty text file every few minutes to the external hard disk which prevents it from going to sleep. Just run the tool, select the external hard disk or any sub-folder, and click Start NoSleep Mode.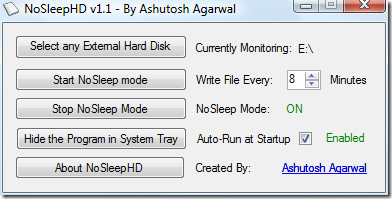 You can manually set the timer, but the maximum time you can set is 15 minutes. Most external hard disk go to auto sleep mode after 10 minutes of inactivity, by default the timer is set to 8 minutes. It can minimize itself to the system tray and you can also set it to auto-start during startup. It only take a few bytes in the external hard disk and is compatible with all version of Windows. Enjoy!