How To Turn Off SmartScreen Filter For Windows 8 [Tip]
Microsoft recently introduced a SmartScreen filter for applications in the new Windows 8 Developer's build. This filter works similar to the Internet Explorer SmartScreen filter, which protects users from malicious agents across the internet by providing warnings for phishing websites. Unfortunately, this new SmartScreen filter can be a bit annoying, since it often provides unwanted security prompts, even for secure applications. The most notable issues occurs with uncategorized portable applications that one may require running frequently. The annoyance stems mainly from the SmartScreen filter being displayed each time such programs are executed.
To turn off SmartScreen Filter for applications, open Action Center from Control Panel or the system tray, and select Change SmartScreen Settings.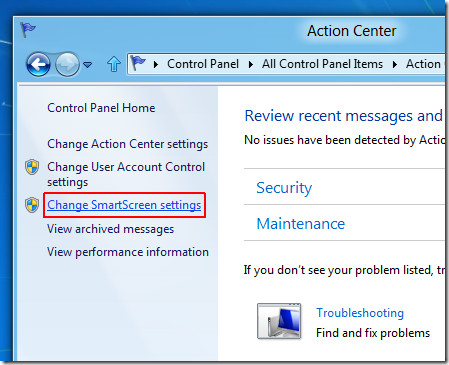 From the new window that pops-up, select Turn off Windows SmartScreen. This will disable the annoying SmartScreen prompts. Other options within this dialog box can be used to help enforce strict security measures, for example, you can enable administrative approval before running uncategorized applications from the internet, or choose to receive a warning before running uncategorized programs from the internet (but not administrative approval).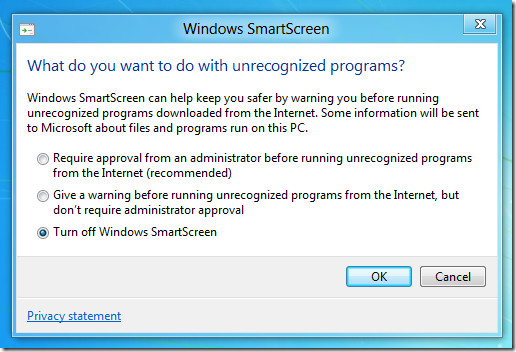 In case you would like to disable the SmartScreen filter for Internet Explorer 10, then go to Tools –> Safety and select Turn Off SmartScreen Filter.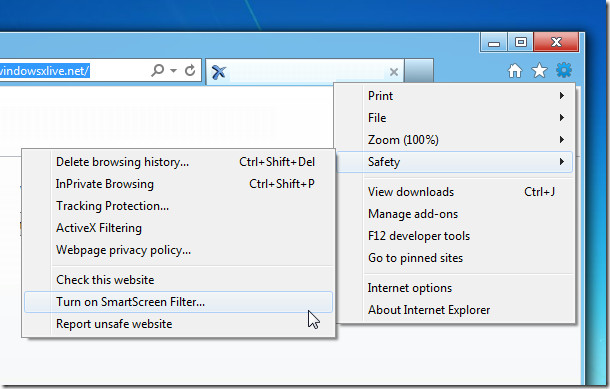 While Windows 8 SmartScreen filter may provide additional security, along with UAC (User Account Control), it would have been better if Microsoft allowed adding application exceptions, so that this prompt can be avoided for some uncategorized, yet safe applications.