Hybrid: Ultra-Powerful HD Video Encoder With Basic Editing Tools
A few days ago, we reviewed x264GUI, an open source application that lets you encode video files to a few of the popular video containers. Another similar application we have come across is Hybrid, a Qt based front end for some of the powerful encoders that can convert video files to X264, XviD, VP8 etc. Additionally, it can also encode audio streams to AC3, OGG, MP3, FLAC and AAC, which are inside the supported video containers, like MKV, MP4, M2TS and WebM. Furthermore, the application can convert Blu-Ray or an AVCHD structure. As the name implies, it is a combination (hybrid) of different encoders and tools, and provides a GUI for using those tools, making It one of the most powerful applications to convert media files. It let users to configure extensive amount of options pertaining to cropping/resizing, filtering, chapter making, X264 etc. The utility is further beautified with its ability to perform encoding operations of batch files, thus saving you from wasting any extra time required to encode each file separately. According to the developer, some of the highlighted features of the tool include tagging/chapter/subtitle support for MP4, MKV and Blu-Ray – acceptable input of AVS and everything that mplayer/ffmpeg can decode – audio/video pass-through for muxing, tagging, chapter editing and much more.
Hybrid's UI comprises a simple design containing different tabs, where each tab houses a plethora of functions and settings. This is why we have found it to be an immensely feature-rich application. The Main tab is where you select your input and output file directories. In case you want to encode videos from Blu-Ray or DVD, you need to mark their respective fields, depending on the type of optical media you're using. Under Primary Input Selection, you can select Video and Audio handling options, and the tabs that appear next to the Main tab depend on the type of format you choose here; for instance, using X264 will let you configure settings related to it on its own separate tab, and so forth. You can even choose ignore to keep the input file to its default state.  Please note that when you want to encode any file, you must first move it to the queue by clicking Add to Queue, to make it appear under Jobs tab, which I will discuss later.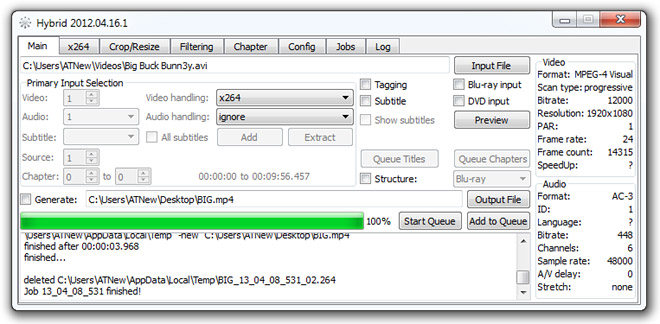 Crop/Resize tab contains crop adjustments for the input file, splitting the settings into Main and Misc. Here, you can input your desired resolution of the video under Picture Crop, but first, you need to mark Enable Cropping for resizing the picture. Generally, you may input any custom resolution for changing height and width of the video; however, it might disturb the picture's aspect ration. To solve this problem, you can use PAR (Pixel Aspect Ratio) option (though by default, it's already 1:1).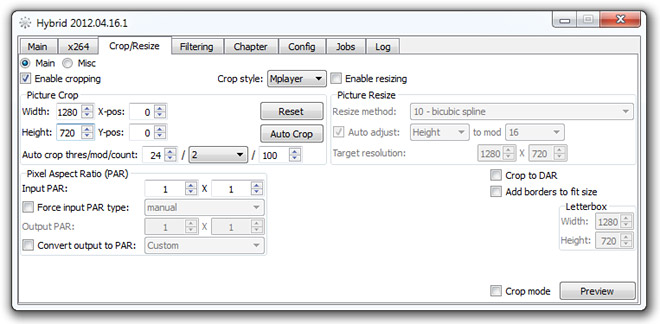 The application provides various Filtering options for encoding the video. You can configure a wide variety of Deinterlacing, Denoise, Speed change and Post-processing settings.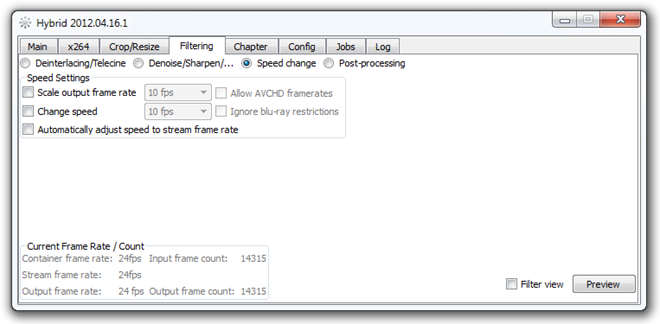 The program's Config tab combines Automation, Input settings, Output settings, Internal, Profiles, Path settings and Tools configurations and you can make any adjustment here according to your preferences. Although the base application package installs most of the required codecs and filters for encoding/decoding process, you may install custom codecs by heading to Config => Tools. Here, you need to select your source file for any missing codec, and then integrate it with the application by first choosing GlobalDataModel under the Save heading, and then hitting Selected.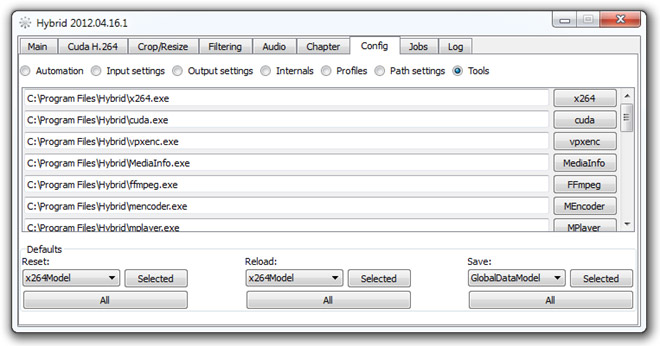 Remember the Jobs tab that I mentioned earlier? Well, this is where you actually start your encoding process. This tab lists all the video files you may have moved, and contains information of your file's ID, Progress, State, Call and Output. Clicking Start at the extreme left of the toolbar begins the encoding process. You may pause or halt the process using their respective navigation buttons. You may also reset the whole settings to start-over. If you need to identify any problem or get an inside look on the statistical information, you can always head to Log tab to check detailed report of your file.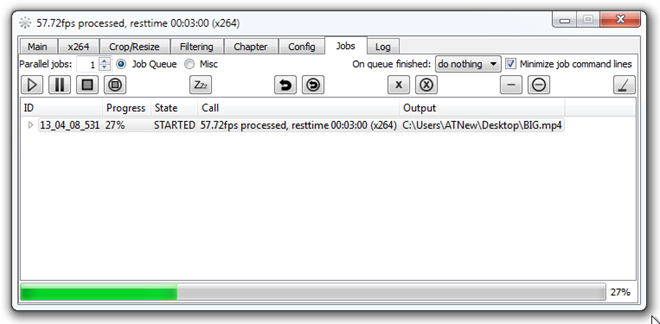 Hybrid is undoubtedly one of the most robust audio/video encoders that we've ever seen. Please notes that we have only listed some of the key elements of this application, and it has so much more to offer beyond that. The utility works on Windows XP, Windows Vista, Windows 7 and Windows 8, supporting both 32-bit and 64-bit OS editions.