IA PrintScreen – Enhance Windows Print Screen
IA PrintScreen is a small utility which resides in the system tray and interacts with the print screen key. This utility presents you with different options when you take a screenshot via print screen key so that you may select your required action to speed up the utilization of the screenshot and get your job done quickly . If you often use the Print Screen key to capture different screenshots then this app is a must have utility for you.
Although windows introduced the snipping tool in Vista and Windows 7 but still a majority of users prefer to use the Print Screen button of their keyboard to capture the screenshots. This application interacts with the Print screen key, as soon as you press Print Screen, it will be invoked and will prompt you with the following window.

Now you can simply email your captured screenshot directly by hitting the Email button. The Open Files button is for opening the screenshot in your default image viewer. If you want to view the folder where all the screenshots are saved, hit the Open Folder button.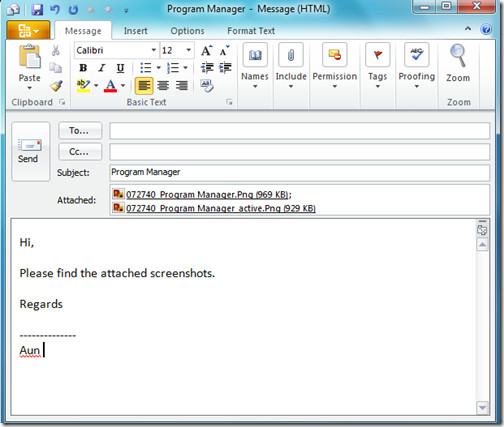 Check the Start at Startup option to run this app during Windows startup.
It works on Windows XP, Windows Vista, Windows Server 2003/2008, and Windows 7. For more, have a look at ScreenShoter. Enjoy!