iBin – Portable Recycle Bin Can Recover Files From USB Flash Drive
iBin is a portable recycle bin for USB Flash Drives developed with AutoHotKey. The default Recycle Bin feature build into Windows is only useful for storing and recovering deleted files from the local hard disk. When you delete a file from the USB drive, it will be deleted from the device file system as well and is never stored in the default Windows recycle bin. Which means recovering the lost files will be much more difficult (although it is still possible).
In case you deleted an important file by mistake from the USB Drive, iBin makes it easier to recover it and works a bit similar to the default Windows recycle bin.
After you have downloaded and extracted the iBin archive, copy the iBin folder to the USB Drive and start the app. It will sit in the system tray and monitor the Delete action when performed in the USB drive. When a Delete action is executed, iBin will replace the default Delete confirmation dialog window with another one as shown in the screenshot below.

You can either choose to continue erasing the data, cancel it, or dump the file to iBin. If you choose the latter, the file will be transferred to the iBin folder(sort of recycle bin folder).
Now you can choose to open or clean the iBin folder from the system tray context menu. There is also an option to Undo Last Dumping which will restore the last dumped file.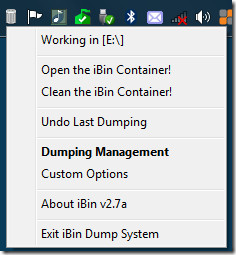 Click Dumping Management and a new dialog window will open from where you can manage all files that have been dumped inside the iBin folder. To recover a file, select it and click the Recycle Data Selected button. To delete a file, select it and click the Clear Data Selected button. When you choose to Select All files, it will even select the iBin executable file but will not delete it.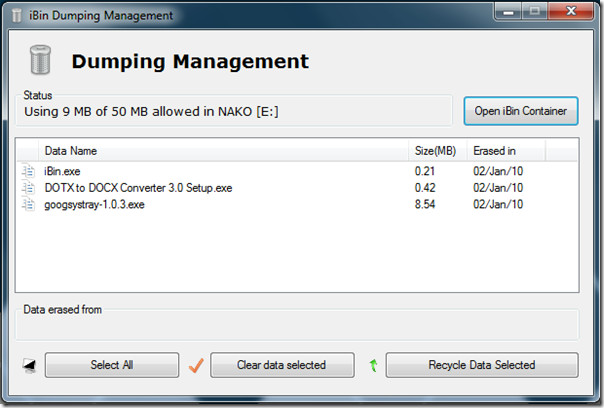 You can modify options, change behavior, assign space, disable hotkeys, etc from the Custom Options dialog window which can be opened from the system tray context menu.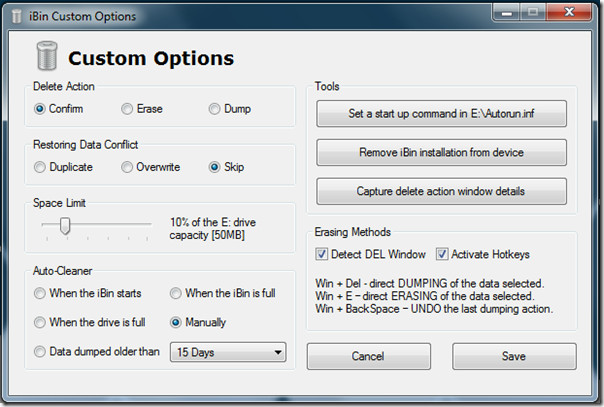 It was developed so that it can work with all versions of Windows, including the latest Windows 7. Since it works from the USB drive only, this makes sense.