Sync Outlook 2010 And Google Contacts
If you are looking for a way to sync your Google Contacts with Outlook 2010, give GO Contact Sync a shot. It is a small tool that have 5 sync options and includes both one-way and two-way syncing.
Enter your Google Account credentials, give sync profile a name, choose the sync option, and hit Sync. The process will take some minutes, depending on your internet connection and the number of contacts in Google Account. One great functionality is the 'Sync Deletion' option. If this option is enabled and you delete a contact from Google, it will be deleted from Outlook as well and vice versa.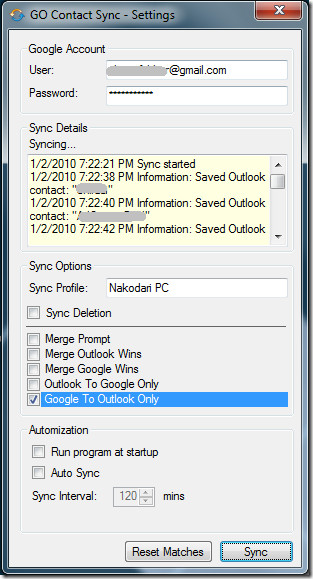 It runs from the system tray and can be set to run on Windows startup. If you want up-to-date contacts on both Gmail and Outlook then you can choose to auto sync every defined minutes(default is 2 hours).
It was originally developed for Microsoft Office Outlook 2007 but works find on Outlook 2010 as well.