ImageGlass: Feature-Rich Alternative To Default Windows Photo Viewer
One of the most fun things to do on your computer is to view your image collection. I have plenty of snaps stored on my PC, which i clicked from time to time, and often love to deja-vu those old memories by viewing these photos. However, personally, I feel the default Windows 7 Photo Viewer s not up to the mark and lags a bit when quickly switching between images. This can be especially annoying when you are trying to locate an image by browsing through a whole album. Other than that, the default viewer also doesn't support GIF images ( i mean seriously?), and you need either a third party app or a browser to open a GIF image. Since i have quite a lot images in GIF extension, i was looking for some decent image viewer that suffice the job. And then i stumbled upon Image Glass, which seems to have some potential. It is an open source application that is designed as an alternative to the default Windows Photo Viewer of Windows Vista and Windows 7. The image viewer supports all popular image formats, including GIF, has slide show support, and loads images faster than Microsoft Photo Viewer, thanks to its Image Booster features which uses Random Access Memory (RAM) to boost up image loading. Moreover, it has a built-in image converter to change image extensions without using an external application. Read on to find out more about ImageGlass.
Image viewers are generally simple in design and interface, and Image Glass is not exception. Images can be loaded by simply dragging and dropping them onto the application. When you drop an image in the application, it will automatically load all the images available in that folder. The toolbar at the top contains buttons for Rotate, Zoom, View Scale, Open, Thumbnail, Convert, Settings, etc.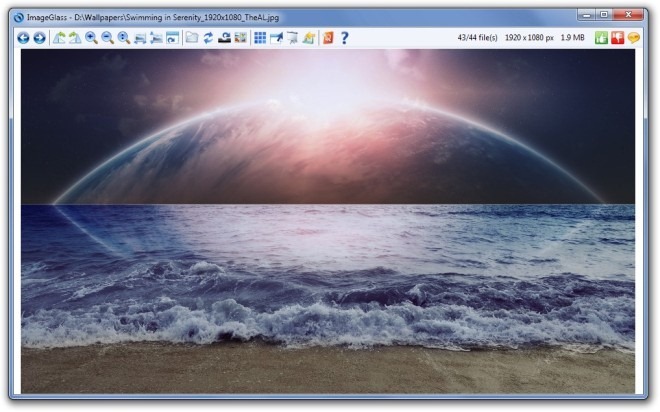 Thumbnails for all the loaded images can be viewed by clicking the Thumbnail button. Thumbnails are displayed at the bottom of the interface, and allow respective images to be viewed by clicking them.
The Settings button allows you to change settings related to Image Booster, Context menu (to add Open With ImageGlass to context menu), General (slideshow settings, etc) and Theme Configuration (to download and apply different themes to the application).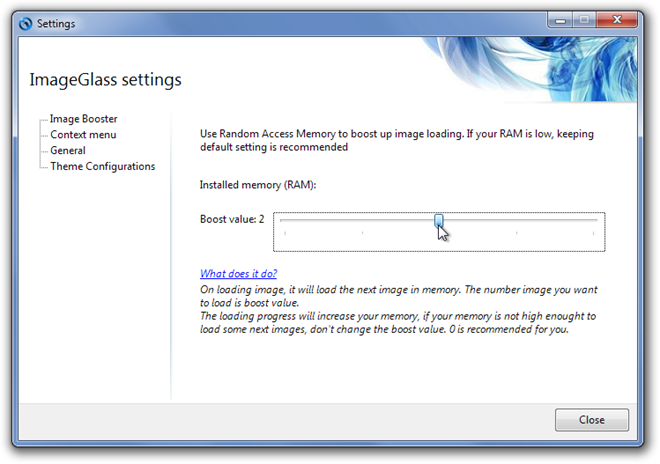 ImageGlass is available absolutely for free and it works on Windows XP, Windows 2003, Windows Vista, Server 2008 and Windows 7. The application supports 32-bit and 64-bit operating systems.