Increase Windows 7/Vista Copy Speed With Talent Copy
What happens when you copy 500+ files together to another destination in the same hard disk? In Windows Vista and Windows 7, it could take forever depending on your system's performance. By default, both OS use the default number of threads to copy the files. Even though Windows 7 copy speed is a bit faster, it is not enough for most users.
Ever heard about HDD crash? Try copying thousands of files and your old HDD will start making loud sounds and might even fail. Talent Copy V is a small tool that speeds up the transfer upto 3 times and at the same time limits the empty HDD head moves, HDD waste, and noise.
Just copy the file(s) and folder(s) as usual and select Paste with Talent Copy option when pasting it in another destination.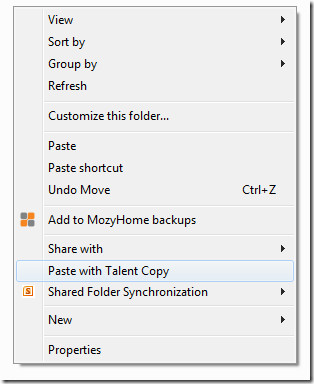 The copy process will start instantly and the app will make full use of your processor by using multiple threads combined with advanced algorithm. You will be able to follow the overall progress along with various other information.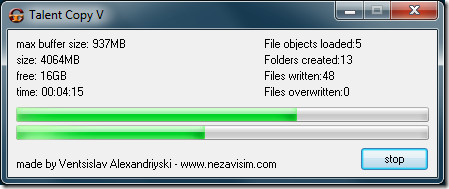 It was originally build for Windows Vista but now supports Windows 7 Libraries as well, i.e, you will be able to copy files and folders to Windows 7 Libraries quickly.
The developer copied 6686 jpeg files and 143 sub folders with total size of 513MB with Talent Copy and it was 3 times faster and lot quieter than the default Windows Vista copy.
Talent Copy is appropriate for HDDs in RAID configuration of any type. It works on both 32-bit and 64-bit Operating Systems.