Instagrille For Pokki: A Compact, Elegant Instagram Viewer For Windows
These days, photo sharing seems to be the craze. The ability to instantly share photos with each other has been a major reason for the success of a number of applications and web services. However, the image sharing and hosting applications are not the only ones to share this success; a lot of apps for modifying and enhancing the images have also popped up on the scene. Instragram, recently acquired by Facebook, is one of the most famous apps available for capturing images with a mobile, applying different effect filters on them and sharing them with your friends and other people. Instagrille is, in essence, a desktop client for photo-sharing giant Instagram. It is an app for Pokki that provides users with a quick way to view their Instagram feeds directly from within Windows, without having to open a browser and navigate to an online viewer. For those who are yet unfamiliar with Pokki, it is (as explained in a previous article) an application built on the Chromium framework, which enables developers to build web applications that can be pinned and executed from the Windows taskbar. The application lets you sign in with your account and view popular Instagram images from all around the world, as well as those uploaded by you or your friends. The application supports both Grid and List views for feeds, and allows you to add photos to favorites and comment on them. More on the app after the break.
After installation, the application is automatically pinned to the taskbar beside the Pokki icon. Clicking the icon brings up the sign in window. Enter your account name and password to sign in to Instagram. When loaded, the Popular tab is selected by default in Grid View.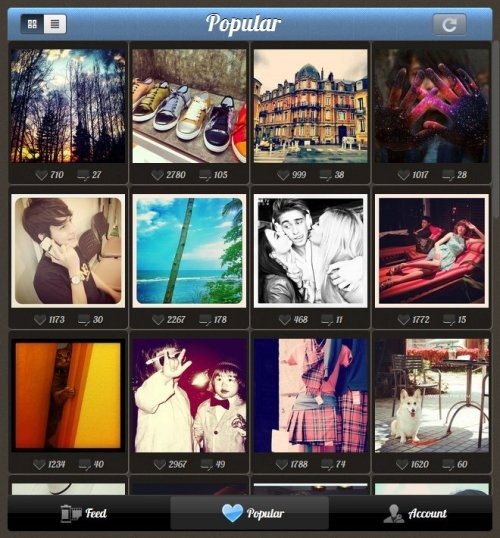 The View can be switched between Grid and List from the top-left corner of the screen.
Switch to Feed tab from the bottom of the main interface to view images posted by the people you follow on Instagram.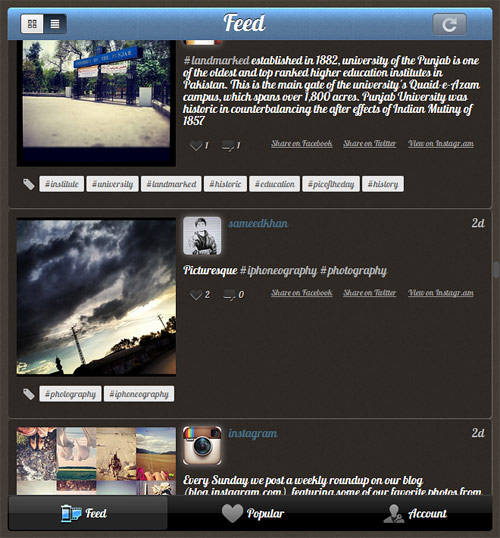 Images can be added to Favorites by clicking the Heart shaped button appearing below each photo and comments can be viewed and added using the Comments button.
Instagrille works on both 32-bit and 64-bit versions of Windows XP, Windows Vista, Windows 7 and Windows 8, provided Pokki is installed on your system.