Instantly Resize Windows To Match Any Custom Screen Resolution
When you are creating a website or a new application, it is very important to make sure that it runs correctly on every resolution. Since there is no standard size or standard resolution of computer monitors, everyone has set theirs to a different one. In some cases, including myself, people have two different monitors of a different size, with a completely different resolution set on each one. A developer must keep the fact in mind that while moving the application or website window from one monitor to another, it should be able to resize its content and retain its shape in such a way that its still usable. One way to check if a tool works in all resolutions is to change the resolution of your monitor, however, that can be a tedious task to switch between all the default resolutions. Instead, you can just resize the windows to different resolutions and check if they work correctly after the resize or not. Window Size is a portable tool for Windows that allows you to resize any window to a desired screen resolution. It provides you with some presets for changing the resolution, along with an option to set a custom width and height for the window.
It is a portable application and does not require you to install anything on the computer. The application sports a very simple interface and all the options can be accessed without having to go inside any submenus. At the top, resolution presets are available allowing you to switch the window size between 640 x 480, 800 x 600, 1024 x 768, 1152 x 864, 1280 x 960, 1280 x 1024, 1600 x 1200 and a custom resolution. Note that only those resolutions can be set that are supported by your monitor. Other than the resolutions, there are options to add a border to get the correct client area size for a maximized window and specify its pixels, and subtract the size of the taskbar, both horizontally and vertically.
In order to resize a window, select the required resolution, click the big button with green text, and click the window that needs to be resized.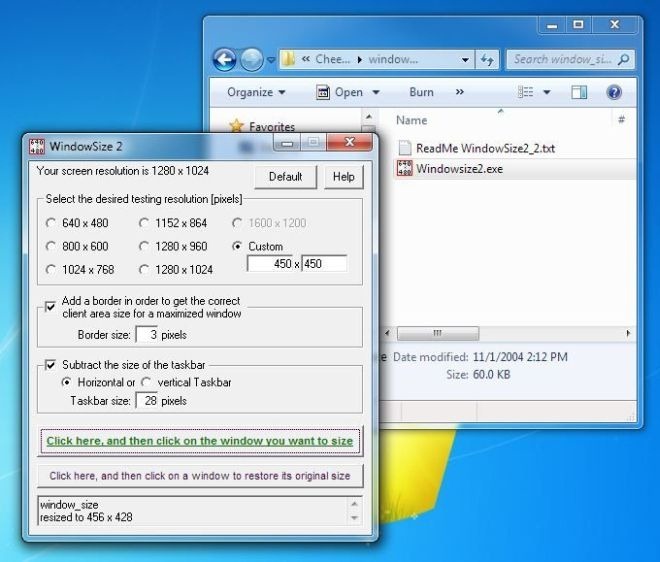 Window Size is a lifesaver for both developers and testers alike. It works on both 32-bit and 64-bit versions of Windows XP, Windows Vista, Windows 7 and Windows 8. Another similar solution you can try out is Sizer. Both apps solve the same problem, but have different ways of going about it.