PrimeTube Is A Great Windows 8 YouTube Player With Push Notification Support
Windows 8 gives us a huge library of apps to play with, but various official apps are still missing the action. To our disappointment, YouTube has remained one such application that is still absent from scene, and from what it seems, Google has no plans to announce it, whatsoever. There's a whole variety of unofficial YouTube apps available at Windows Store, but none of them really steal the show. Nevertheless, until Google cooks its own official client, you can try giving PrimeTube a shot, which in all honesty, seems to be the best in business so far.
PrimeTube gives three playback choices (Low, High and HD) to tackle however you please. You are allowed to stream videos both in full screen and windowed mode as well. In addition, you can sign in to your Google account, like and pin videos to Start Screen, comment on them, or simply add them to your favorites. That, coupled with a gorgeous interface; you're all set in for a prime YouTube experience.
Downloading the app is nothing farther than looking it in Windows Store. It takes a mere 2.25MB on your precious disk space, and more importantly, available absolutely for free. After accessing PrimeTube's Store page, hit Install button to begin the download.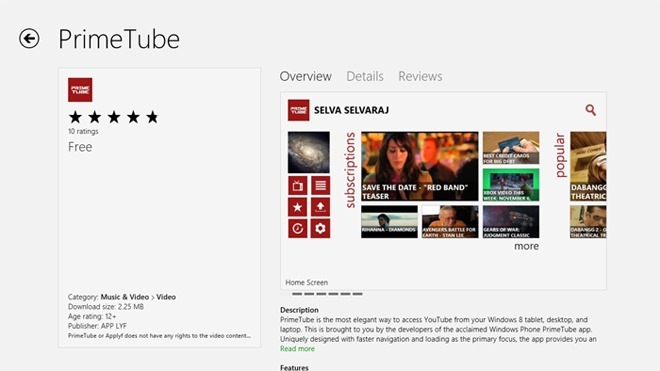 The app sports a white textured UI, which is embellished with red tiles and text. The main screen gives easy access to Popular and Trending YouTube videos, as well as your subscriptions when you have signed in to your account. The app sends you push notifications for latest videos from your subscribed channels.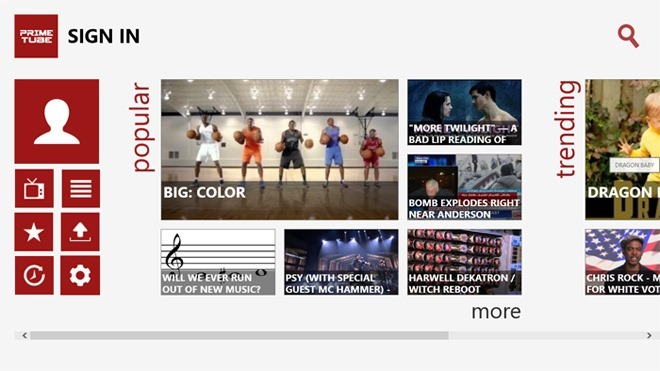 To sign in, all you have to do is click "Sign In" at the top left corner, input email and password and then grant the app permission to your account. Once signed in to your account, you can access your Playlists, Favorites, Subscriptions, Uploads and Recently Watched videos. The app doesn't allow uploading videos from within the UI though.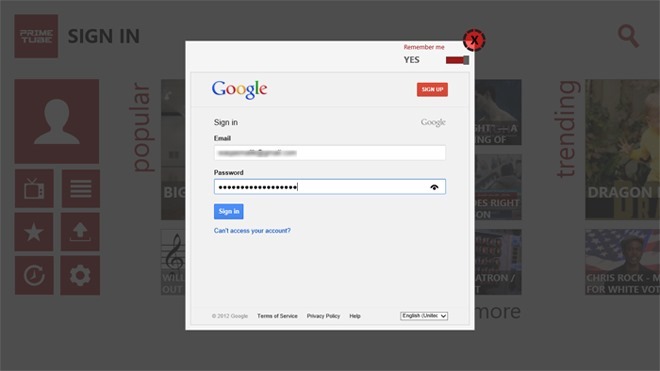 The player API of the app looks exquisite, giving you full control of the playback, along with navigation buttons for Like, Dislike, Favorite, Pin and Watch Later. Pinning the video to Start Screen is probably a great feature about PrimeTube. You can select among three streaming qualities, termed as LQ, HQ and HD (Low quality, High quality and High Definition, respectively). From the right section, you can quickly jump to Related and More videos, along with posting your own comments.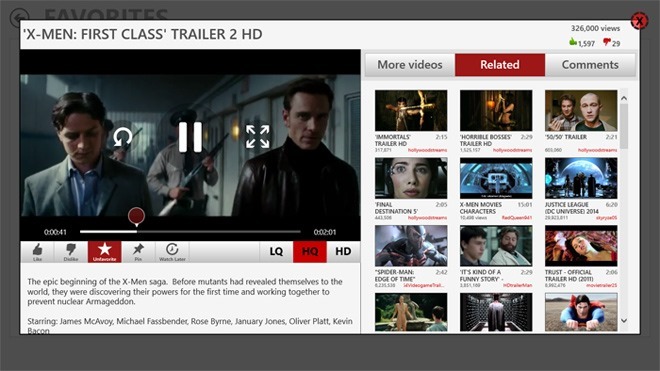 The search feature comes in handy, should you require looking for a specific video. Access to Search Charm is possible both from the main screen or Windows 8 hot corners.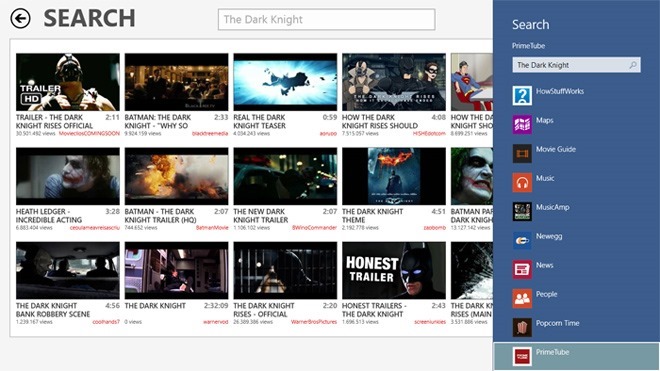 The Settings panel of the app is only as worthwhile as choosing the Region, changing app language and Video quality, and toggling Data Usage monitoring alert. Furthermore, you can click Clear to "Delete Recently played videos".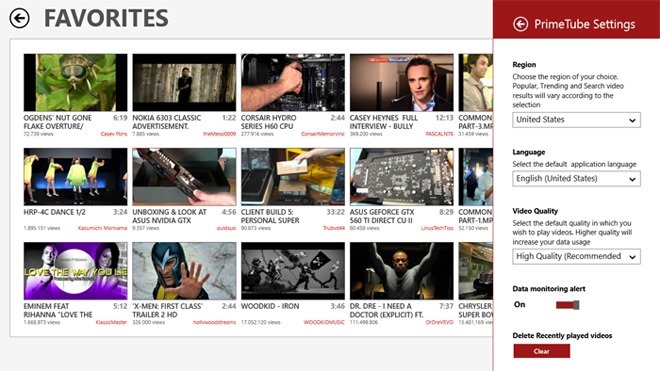 PrimeTube works on Windows 8 and Windows RT.