View Rotten Tomatoes Movie Ratings On IMDb Pages [Chrome]
If you're looking for something to kill time or a really great movie to watch, you can always head over to IMDb and check one of the many user lists or use the ratings as a fairly accurate guide, but if you prefer a second opinion, try IMDBRT. It's a Chrome extension that adds ratings from Rotten Tomatoes (Flixster) to the IMDb page of a movie. The extension merely adds convenience to your movie search; you can always head over to Rotten Tomatoes and look up a movie yourself, but that would mean visiting two different websites, which requires time that most people would rather not spend. With the extension installed, the Rotten Tomatoes rating appears just below the IMDb one and you can read the first few lines of a movies review. The ratings include both the Tomatoemeter and the overall percentage of the movie's audience that's given it a rating higher than 3.5.
The ratings fit nicely within IMDb pages and take very little (almost unnoticeable) time to load. If you click either of the two ratings, the extension will open the movie's Rotten Tomatoes page in a new tab. The good thing about the extension is that the different elements on the page are not disturbed in any way (you won't see any text or button floating atop one of the movie posters).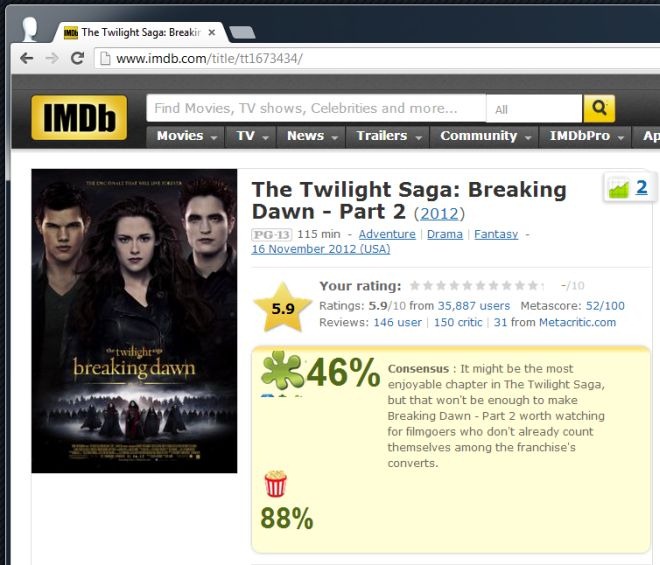 On one hand, the extension is excellent for users who always default to IMDb for a movie rating. If you Google a movie name, its IMDb page will be one of the top five results, or on the first page at the very least, so no matter how you look at it, the extension bodes well for IMDb users. It would have been all the more useful if the extension also added IMDb ratings to a Rotten Tomatoes page for a movie.
While users of either site have their own preferences and will generally give importance to one rating over the other, to be able to view ratings from another credible source can help one choose between one or two films. You will also find that when a new movie premiers, the ratings are often skewed at the beginning, and that is just one more case where IMDBRT might prove to be useful in balancing an opinion.