Is My System Capable Of Running Windows 7 XP Mode?
Windows 7 XP Mode provides you with the option to run some of Windows XP's productivity applications on your Windows 7 computer. These are the same applications that worked on Windows XP but did not work on Windows Vista. SecurAble is a free portable tool that answers one of the most frequently asked question,"Is my system capable of running Windows 7 XP mode?". It analyzes the processor to determine the presence of all the required modules to run the XP Mode.
Simply run the executable file and it will show the result after complete analysis.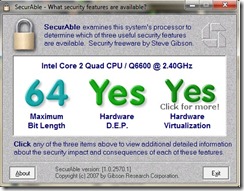 Please note that the minimum requirements to run XP Mode are, a 1 GHz 32-bit / 64-bit processor, 1.25 GB of RAM,  and 15 GB hard disk space per virtual Windows environment. Now, the rule of thumb is that If there's a  "Yes" in the Hardware Virtualization section, then your CPU will support the XP Mode feature of Windows 7, else you will have to upgrade the system. You can also click on any of the displayed factors to get more details about it.
This tool has been developed for Windows 7 only. Enjoy!