Join/Merge VOB Files [DVD Video]
VOBMerge is an opensource portable tool which can quickly stitch multiple VOB(DVD) video files together. The process is quite fast and lossless because it does not recode the VOB file after merging them, just like FLV Joiner which merged two FLV files.
Ofcourse VOB files are large files but for testing purpose I quickly converted two small files into VOB format and used this tool to merge them in no time. Please make sure you your drive is formatted in NTFS format if you are to combine and save two large VOB files.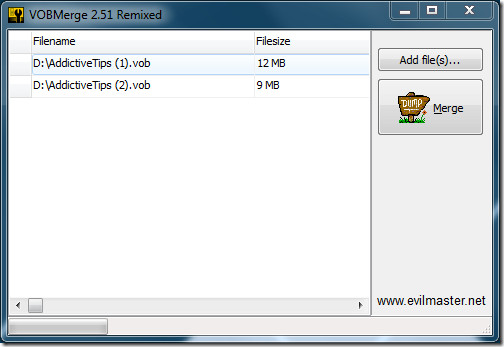 VOBMerge is developed by the same author behind the awesome Magnetizer app.
Download VOBMerge (Second tool from top)
Since it is a portable tool it works on all versions of Windows, including the latest Windows 7. It does not rely on any 3rd party dependencies when merging the files and can be used for batch processing as well.