Kiwix: Download Wikipedia, Wikileaks & More For Reading Offline On Windows, Mac, Linux & Android
Wikipedia is the world's most popular and up to date encyclopedia. It is like an external brain of sorts that we can access anytime to gain knowledge about hundreds of thousands of topics, but only as long as we have internet access. That really doesn't have to be the case though, since you can use Kiwix to download and read the entirety of Wikipedia completely offline. Check it out after the jump.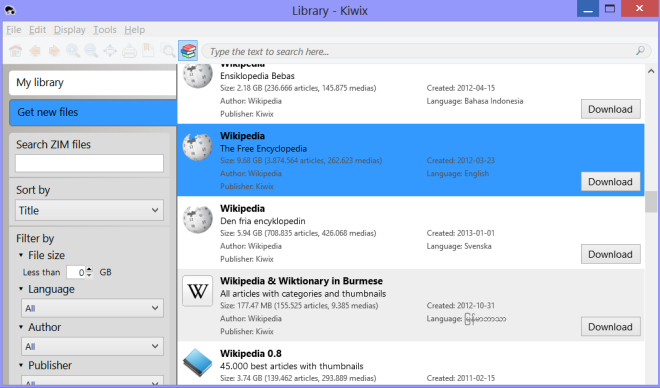 Kiwix is a surprisingly powerful offline Wiki reader; we were surprised we hadn't already come across it before since it has been available for a good amount of time now.
The program is available as a portable application, but can also be installed the traditional way. When you launch it for the first time, it asks you to download the catalogue of available wikis, which you definitely must download. I didn't understand it at first, so I pressed no; 'Do not ask anymore' was enabled by default so I had to reinstall the program to be able to one-click download the catalog.

Press 'Yes' when you get this option on startup.
Once the catalog is ready, you can click on File > Browse library to see the list of available wikis you can download for reading offline (seen in title image).
For purposes of testing, we downloaded Wikipedia in Simple English (730MB). If you want the more popular version – Wikipedia in English – you can download the sum total of it as updated till March 23rd, 2012 in the form of a 9.3GB download. You won't find much information on latest topics like the Xbox One or the Royal Baby, obviously, but that won't be an issue for most people.
So what separates Kiwix from the previously covered offline Wikipedia reader BzReader? Well, it looks and works much, much better. You can quickly search for new wikis to download from the Library view, download and 'install' in one click, add notes, bookmark pages, export pages in PDF or HTML, and read multiple Wikipedia pages with tabination. For advanced users, it can also be set up as a web server allowing people on your network to access Kiwix from the local server without downloading huge files.
I'm a big fan of Kiwix. It works really well, and is completely free. We only tested the Windows version of it, but there are variants of it on OS X, Linux and Android that you can download from the link below.
You can also download the Kiwix source code and compile the application for your own operating system.
[via Ghacks]