Label Printer: Create Customized Labels For Parcels And Envelopes
If you have ever happened to be in the shipping business, you must have had an idea of how painstaking it is to customize printing labels of your contacts, customers or other consignees, individually. And what would you do if your entire job is dependent on label printing? There are quite a lot of courier services that use printed contact labels on parcels, mail, cargo, crates and other miscellaneous shipments, before sending them en-route to their destinations. If you're looking for an easy-to-use labor printing application, then give Label Printer a shot. It is a small application by SSuite Office that elegantly does this job by using pre-printed Avery labels as templates for printing customer addresses. You can create your clientele database for future printing of regularly used labels. Some of the key features include font size and font style selection, importing and exporting contact from/to CSV files and custom line-spacing & positioning of addresses. Apart from address printing, it also lets you do any general printing. More to follow after the jump.
The software contains a contact database where you can create a number of different contacts. You can generate two types of databases for printing: Address Printing and General Printing, and each type of printing is only displayed on its corresponding category. The application has New, Edit, Delete, Import, Export and Print buttons on the left. You can select individual or multiple contacts, or even the entire database by clicking Select All.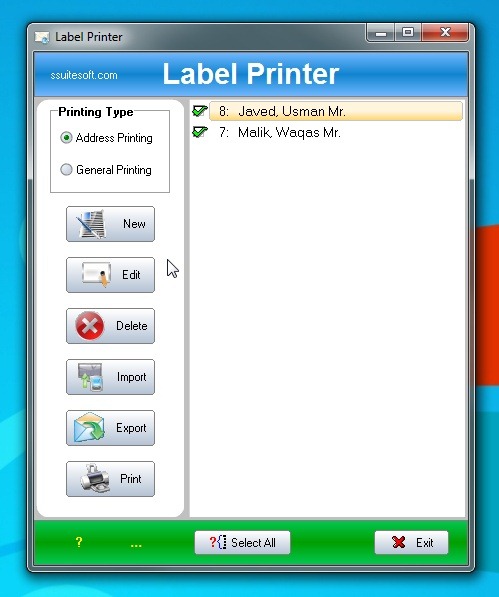 To enter a new contact, hit New  and enter your contact's information such as Title, Name, Surname, Address, Postal Code, City/Town, Country/County and press Save to store the information.
Entering general labels also works the same way, just select General Printing under printing type, click New and enter your text in up to five available general fields.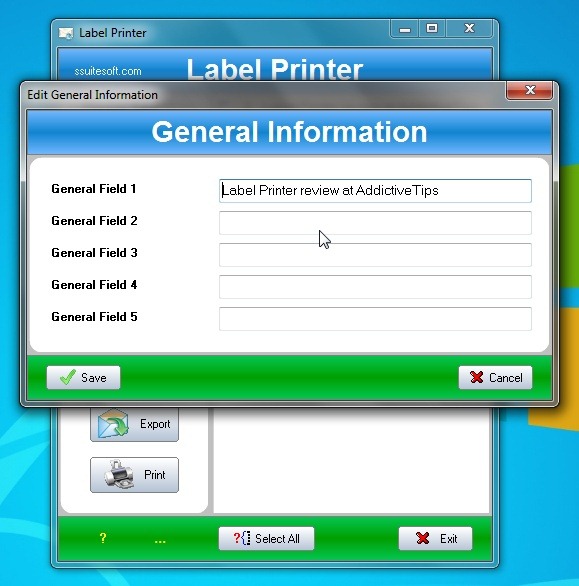 When you have carefully entered your contact information, now first select your contact(s) fromthe  database and then click Print to open the Print Preview window. Here you can customize the label using different templates and a few more settings like the starting label number, line spacing, top and left margins, and font style and size. Hit Preview to see any changes you might have made before taking the printouts. Finally, you can also zoom in and out or print some or all of the pages using the available controls in this section.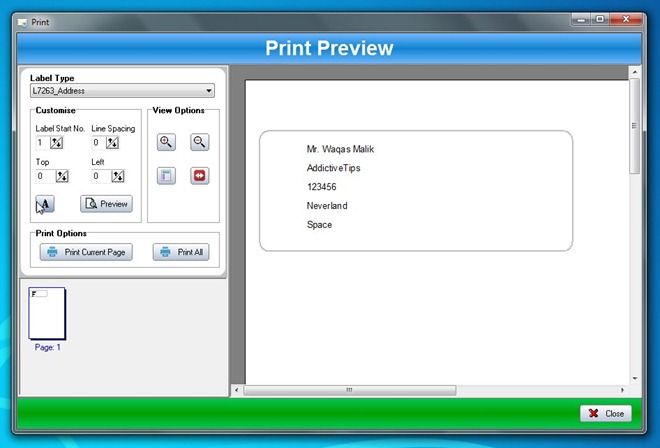 The application is available for free and works on Windows XP, Windows Vista, Windows 7 and Windows 8.